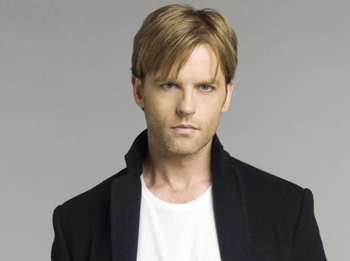 Cole beats up Todd after Hannah accuses Todd of pushing Marty down the stairs.
Pulse Poll Rankings for Wk. of 4/12/10 |
Don't forget to vote for your favorite actor, actress, and couple in the Pulse Poll beginning at 4PM |
UP THE DOWN STAIRCASE
The mystery about who pushed Marty seems to be solved. Is it? Hannah overhears Cole telling Starr that he's certain her father is the culprit, and the ensuing argument between the young lovers when Starr isn't immediately convinced. Tea shares her suspicions with Blair and both women admit Todd is capable of almost anything. Starr appears to be the only one who believes in Todd, but things go from bad to worse when Hannah tells Cole that she saw Todd push Marty. Cole confronts Todd at the high school gym and assaults him, almost beating him to death. Todd is rushed to the emergency room with Blair and Starr by his side, and Danielle surprises Tea when she insists on accompanying her to the hospital. After being informed of the severity of Todd's injuries, Blair entreats Todd to fight for his life as she stays by his bedside. Starr confronts Cole who shows no remorse. Todd's heart stops and he has a horrible nightmare in which all of his worst fears are realized. Brody arrests Cole. After questioning Hannah, John shows up at Todd's hospital room to make an arrest, but Tea springs into action. John is not dissuaded, and handcuffs Todd to his hospital bed. Todd pleads with Starr not to give up on him, and Blair warns Todd about the consequences if he had anything to do with Marty's fall. Nora promises Marty she will see that Todd is punished if he's responsible, and Marty rushes to Cole's side when she learns of his arrest.
ELSEWHERE IN LLANVIEW
When Kelly finds Rodney, dead in her office, who you going to call? John shows up and finds no sign of foul play, but agrees with Kelly's assessment that Rodney's death came at the hands of whoever murdered her mother. Ford and Langston draw ever nearer their eventual exposure when Destiny and Matthew spy them kissing. Later Destiny and Mathew talk about that kiss, unaware that Marrko's video camera (with audio) is resting nearby and capturing their every word. Viki encourages Gigi to give Rex another chance, while Bo gives the same advice to Rex. Viki and Charlie are glad to be back together. A crafty Charlie persuades Jessica to consider taking Brody to the prom and seeing Layla and Cris together tips the balance, and she makes the call. Layla thinks Cristian may propose. Dorian hires Shaun to be Kelly's body guard and a handsome stranger arrives in Llanview seeking Kelly. Natalie demands an apology from John when she learns she's been cleared of pushing Marty, but John doesn't deliver as expected.
CAN'T MISS
Marty sends Natalie away with Brody after becoming emotional over the loss of her baby on Monday, April 26.
Markko comes dangerously close to discovering Langston's affair with Ford but gets distracted by Cole's outburst on Tuesday, April 27
Blair urges Todd to fight as she sits vigil by his bedside and Starr tells Cole that Todd might die because of him on Wednesday, April 28
Layla anticipates a marriage proposal from Cristian when he surprises her with a romantic dinner for two. Jessica calls Brody after seeing Layla and Cristian together on Thursday, April 29
Unmoved by Tea's arguments, John handcuffs Todd to his hospital bed on Friday, April 30
---
TVSource Magazine
is looking for weekly, bi-weekly and/or monthly "One Life to Live" columnists. Applicants should be efficient, reliable, intelligent and team players with strong writing skills. If you are interested in
becoming a columnist for "One Life to Live" or perhaps another soap or primetime show, please contact us at staffpositions@tvsourcemagazine.com. Feel free to pass this information on to any other "One Life to Live" fans you know.
---
© 2010 TVSource Magazine. All rights reserved
Please credit TVSource Magazine and provide a link back if you copy & paste our spoilers