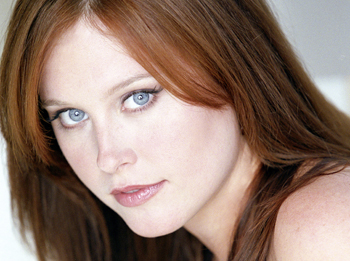 Natalie confesses to Brody her feelings for John have resurfaced.
Pulse Poll Rankings for Wk. of 3/29/10 |
Don't forget to vote for your favorite actor, actress, and couple in the Pulse Poll beginning at 4PM |
LOVE IS A BATTLEFIELD
There is loads of overlapping conflict between the citizens of Llanview this week. Starr confesses to Cole that Langston is cheating on Markko with Ford, but tells him that Langston is breaking up with Markko as they speak. However, Dorian interrupts Langston and Markko, and reminds Langston how wonderful Markko is. Later, when Cole sees Markko at the diner, he jumps to an erroneous conclusion. Langston later promises Starr she will end things with Ford. Ford continues to lead Langston on, while continuing to sleep with Karen. Todd is in a very bad mood, which Jack observes is because of his faltering relationship with Tea. When Blair arrives at the Palace for her date with Eli, Todd's nasty disposition finds a new target. Eli takes Tea to the hospital after she faints in his arms. After ensuring that Tea is okay, Eli dashes to the Palace where he apologizes to Blair for being late. Todd's foul humor deteriorates further when he discovers a scantily clad Hannah in Cole and Starr's apartment, and Todd vows anew to removed Cole from Starr's life. To make matters worse, Starr returns to find Cole and Hannah in a clutch. While rehearsing for the musical, Starr is reminded of her painful past with Todd and Cole, and later is reluctant to take sides between her father and her lover. Meanwhile, Marty overhears Natalie telling Brody that her feelings for John have resurfaced, and that she believes that she and John may have given their relationship another go if Marty hadn't turned up pregnant. Fresh from a brutal argument with Natalie, Marty comes face to face with Todd, who proceeds to take all his anger out on her. Marty is in no mood to put up with Todd's lame accusations, and lashes out with some hard truths when she tells him he bears full blame for his own miserable life. Todd volleys with a cold threat. As she's leaving the hospital, Marty is attacked.
ELSEWHERE IN LLANVIEW
Gigi withdraws her petition for custody of Sierra Rose. Rex questions Alison about his real parents. Rex gets confirmation that Mitch is not his father and he and Gigi set out to find the truth. Matthew and Destiny meet Nate whose been cast as Cole in the musical. Brody collects on his bet and he and Jessica's date at Ultraviolet is going well until Cris and Layla show up. Much to Jessica's disgust, Cris makes it clear that he's going to the prom with Layla. John and Kelly go to the sanitarium to investigate the strange calls Kelly's been receiving. Once there, they meet Rodney, who they are told hasn't spoken since he arrived at the sanitarium. John thinks Rodney may hold the key to the mystery of Melinda's demise. Dorian offers Charlie a job.
CAN'T MISS
Bo argues to Nora all the reasons she should accept his marriage proposal on Monday, April 12.
While out having dinner at the Palace, a perceptive Jack accuses Todd of being in a foul mood and acting out because he misses Tea on Tuesday, April 13
Todd walks in to find Cole with Hannah, who's only wearing a bra on Wednesday, April 14
Natalie pulls no punches while squaring off with Marty over John but immediately regrets the cruel and hurtful things she says on Thursday, April 15
Viki arrives at the Palace to see Charlie and Dorian together on Friday, April 16
---
TVSource Magazine
is looking for weekly, bi-weekly and/or monthly "One Life to Live" columnists. Applicants should be efficient, reliable, intelligent and team players with strong writing skills. If you are interested in
becoming a columnist for "One Life to Live" or perhaps another soap or primetime show, please contact us at staffpositions@tvsourcemagazine.com. Feel free to pass this information on to any other "One Life to Live" fans you know.
---
© 2010 TVSource Magazine. All rights reserved
Please credit TVSource Magazine and provide a link back if you copy & paste our spoilers