NBC has big names behind its new slate of scripted dramas hitting the network this fall.
With the NBC Upfronts scheduled for Monday, May 17, the peacock network has announced the pick ups of several new scripted dramas and comedies for their 2010-2011 season. NBC will have an "action" block on Mondays, a "crime dramas" block on Wednesdays and an "all-comedy" block on Thursdays.
The returning "Chuck" will anchor the network's Monday night programming, serving as a lead in to its new series "The Event" and "Chase". "Law & Order: SVU" will follow the new series "Undercover" and will serve as the lead-in to the new "L&O" spinoff series "Law & Order: Los Angeles."
"This new schedule brings NBC back to basics with its commitment to quality scripted programming," NBC Universal TV Entertainment chairman Jeff Gaspin said. "Our new shows are distinctive and feature a combination of the biggest talent, the brightest new stars and the strongest auspices in television. With this new schedule, we're poised to take the next step toward our long-term goals with a lineup that has stabilized and has been building solid momentum through the second half of the season."
Though it was rumored NBC would add an additional night of comedies due to all of the comedies in development, it has been confirmed that NBC will keep all its comedies confined to it's Thursday comedy block. Unfortunately due to the amount of new series, the network had to bump one of its shows to the mid-season. Amy Poehler's "Parks and Recreations" has been moved to the mid-season after NBC picked up the hour long "Love Bites."
Below is a list of the new scripted dramas hitting NBC this fall. NBC's new comedies can be found here: NBC Unveils New Comedies for 2010-2011 Schedule
NEW SERIES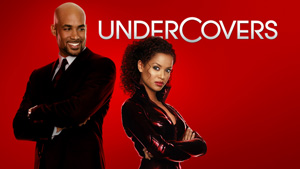 Undercovers – The first scripted series pickup of the 2010-2011 season. The series is from acclaimed writer/producer/director J.J. Abrams ("Star Trek," "Fringe," "Lost," "Alias") and executive producer/writer Josh Reims ("Brothers and Sisters").
"Undercovers" is a sexy, fun, action-packed spy drama that proves once and for all that marriage is still the world's most dangerous partnership.  Outwardly, Steven Bloom (Boris Kodjoe, "Tyler Perry's Madea's Family Reunion," "Soul Food," "Resident Evil: Afterlife") and his wife, Samantha (Gugu Mbatha-Raw, "Doctor Who," "Bonekickers"), are a typical married couple who own a small catering company in Los Angeles and are helped by Samantha's easily frazzled younger sister, Lizzy (Jessica Parker Kennedy, "Smallville").
Secretly, the duo were two of the CIA's best spies until they fell in love on the job five years ago and retired.  When fellow spy and friend Nash (Carter MacIntyre, "American Heiress") goes missing while on the trail of a Russian arms dealer, the Blooms are reinstated by boss Carlton Shaw (Gerald McRaney, "Deadwood") to locate and rescue Nash.  The pair is thrust back into the world of espionage as they follow leads that span the globe — and Steven and Samantha realize that this supercharged, undercover lifestyle provides the excitement and romance that their marriage has been missing.  Also starring is Ben Schwartz (NBC's "Parks and Recreation").
Law & Order: Los Angeles – The new "LOLA" ("Law & Order: Los Angeles") is a procedural crime drama that will follow the theme and storylines similar to the "Law & Order"-brand series on the streets of Los Angeles. The series, from executive producer Dick Wolf and Blake Masters ("Brotherhood"), is a Wolf Films production in association with Universal Media Studios. Casting and pre-production work are continuing.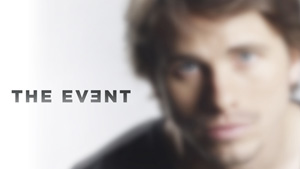 The Event – "The Event" is an emotional, high-octane conspiracy thriller that follows Sean Walker (Jason Ritter, "The Class"), an Everyman who investigates the mysterious disappearance of his fiancée, Leila (Sarah Roemer, "Disturbia"), and unwittingly begins to expose the biggest cover-up in U.S. history. Sean's quest will send ripples through the lives of an eclectic band of strangers, including: newly elected U.S. President Martinez (Blair Underwood, "Dirty Sexy Money"); Sophia (Emmy Award nominee Laura Innes, "ER"), who is the leader of a mysterious group of detainees; and Sean's shadowy father-in-law (Scott Patterson, "Gilmore Girls"). Their futures are on a collision course in a global conspiracy that could ultimately change the fate of mankind.
Ian Anthony Dale ("Daybreak") and Emmy winner Željko Ivanek ("Damages") also star in the ensemble drama.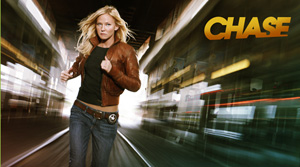 Chase – Jerry Bruckheimer's "Chase" is a fast-paced drama that drops viewers smack into the middle of a game of cat-and-mouse as a team of U.S. marshals hunts down America's most dangerous fugitives. Kelli Giddish ("All My Children" and "Past Life") stars as U.S. Marshal Annie Frost, a cowboy boot-wearing deputy whose sharp mind and unique Texas upbringing help her track down the violent criminals on the run. Cole Hauser ("K-Ville"), Amaury Nolasco ("Prison Break"), Rose Rollins ("The L Word") and Jesse Metcalfe ("Desperate Housewives") also star as members of Frost's elite team.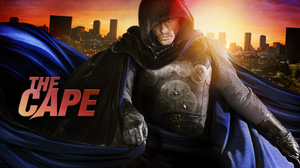 The Cape – "The Cape" is a one-hour drama series starring David Lyons ("ER") as Vince Faraday, an honest cop on a corrupt police force, who finds himself framed for a series of murders and presumed dead. He is forced into hiding, leaving behind his wife, Dana (Jennifer Ferrin, "Life on Mars") and son, Trip (Ryan Wynott, "Flash Forward"). Fueled by a desire to reunite with his family and to battle the criminal forces that have overtaken Palm City, Faraday becomes "The Cape" his son's favorite comic book superhero — and takes the law into his own hands. Rounding out the cast are James Frain ("The Tudors") as billionaire Peter Fleming – The Cape's nemesis – who moonlights as the twisted killer: Chess; Keith David ("Death at a Funeral") as Max Malini, the ringleader of a circus gang of bank robbers who mentors Vince Faraday and trains him to be The Cape; Summer Glau ("Terminator: The Sarah Connor Chronicles") as Orwell, an investigative blogger who wages war on crime and corruption in Palm City; and Dorian Missick ("Six Degrees") as Marty Voyt, a former police detective and friend to Faraday.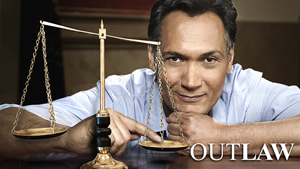 Outlaw – "Outlaw" is a new drama from executive producer John Eisendrath ("Alias," "Felicity," "Playmakers"). Emmy Award winner Jimmy Smits ("NYPD Blue," "West Wing") stars as Cyrus Garza, a Supreme Court justice who abruptly quits the high-level position. A playboy and a gambler, Garza had always adhered to a strict interpretation of the law until he realized the system he believed in was flawed. Now that he's quit the bench and returned to private practice, he's determined to represent "the little guy" and use his inside knowledge of the justice system to take on today's biggest legal cases — and he's making plenty of powerful people unhappy along the way. Jesse Bradford ("West Wing"), Carly Pope ("24"), Ellen Woglom ("Californication") and David Ramsey ("Dexter") also star.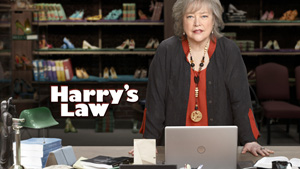 Harry's Law – Emmy Award-winning creator David E. Kelley ("The Practice," "Boston Legal") brings his unique storytelling to "Harry's Law," a series about fate and the people it brings together, starring Academy Award winner Kathy Bates ("Misery," "About Schmidt").
Harriet (Bates), Matthew (Ben Chaplin, "Me and Orson Welles") and Malcolm (Aml Ameen, "Kidulthood") couldn't be any more different. Harriet is a curmudgeonly ex-patent lawyer who, having just been fired from her cushy job, is completely disillusioned with her success and looking for a fresh start. Her world unexpectedly collides with Malcolm's — a young man trying to figure out life. When he finds out Harriet is a lawyer, he begs her to represent him in an upcoming criminal case. Matthew, a dreamer at heart and also recently fired from his job as a high school teacher, is introduced to Harriet through Malcolm, a previous student of his. When these three cross paths, they realize they're all looking for a fresh start. Now, the most unlikely of people are starting a law practice in the most unlikely of places — a rundown shoe store. "Harry's Law" also stars Brittany Snow ("Hairspray") as Harriet's assistant, Jenna Backstrom and Beatrice Rosen ("Dark Knight") as Eve, a high school French teacher.
NEW LINE UP
Mondays: 8PM – Chuck | 9PM – The Event | 10PM – Chase
Tuesdays: 8-10PM – Biggest Loser | 10PM – Parenthood
Wednesdays: 8PM – Undercovers | 9PM – Law & Order: SVU | 10PM – Law & Order: Los Angeles
Thursdays: 8PM – Community | 8:30PM – 30 Rock | 9PM – The Office | 9:30PM – Outsourced | 10PM – Love Bites
Fridays: 8PM – Who Do You Think You Are /School Pride | 9PM – Dateline | 10PM – Outlaw
---
Follow TV Source on Twitter at @TVSource | Facebook Fan Page