New comedies from big names on tap for NBC's upcoming fall season.
With the NBC Upfronts scheduled for Monday, May 17, the peacock network has announced the pick ups of several new scripted dramas and comedies for their 2010-2011 season.
Though it was rumored NBC would add an additional night of comedies due to all of the comedies in development, it has been confirmed that NBC will keep all its comedies confined to it's Thursday comedy block. Unfortunately due to the amount of new series, the network had to bump one of its shows to the mid-season. Amy Poehler's "Parks and Recreations" has been moved to the mid-season after NBC picked up the hour long "Love Bites."
Below is a list of the new comedies hitting NBC this fall. NBC's new scripted dramas can be found here: NBC Unveils New Scripted Dramas for 2010-2011 Schedule
NEW COMEDY SERIES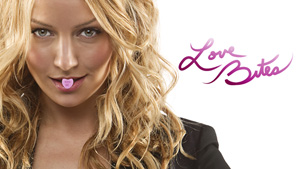 Love Bites – From Emmy Award-winning writer-producer Cindy Chupack ("Sex and the City"), "Love Bites" is an hour-long romantic comedy anthology series featuring three loosely connected, modern stories of love, sex, marriage and dating. Each episode contains multiple vignettes, all illuminating the theme of love with an edgy, irreverent spin.
Becki Newton ("Ugly Betty") stars as Annie and Jordana Spiro ("My Boys") stars as Frannie, the last two single girls standing after all of their friends get married. Annie is an infectiously bubbly optimist and Frannie is an always-a-bridesmaid realist. Their story will anchor the series, while other romantically-challenged characters will come and go each week.
The pilot's guest cast includes Jennifer Love Hewitt ("Ghost Whisperer"), Greg Grunberg ("Heroes"), Craig Robinson ("The Office"), Jason Lewis ("Sex and the City"), Lindsay Price ("Lipstick Jungle"), Larry Wilmore ("The Daily Show"), Charlyne Yi ("Knocked Up"), Pamela Adlon ("Californication"), Stacy Galina ("Hidden Hills"), Brian Hallisay ("Privileged"), Kyle Howard ("My Boys") and Steve Howey ("Bride Wars").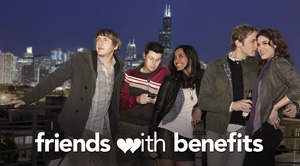 Friends With Benefits – From Oscar and Emmy winner Brian Grazer ("A Beautiful Mind," "Arrested Development"), "Friends With Benefits" is a half-hour comedy revolving around a group of twenty-something singles as they navigate the difficult, and often confusing, world of dating. Ben Weymouth (Ryan Hansen, "Party Down") is on the hunt for the perfect woman who meets his unique set of standards, while his best friend, Sara Maxwell (Danneel Harris, "One Tree Hill"), is just looking for a man to settle down with and raise a family. Ben and Sara have fallen into the habit of turning to each other for moral and physical support as they wait for Mr. and Ms. Right to arrive. Their friend Aaron (Fran Kranz, "Dollhouse"), a romantic at heart, doesn't approve of Ben and Sara's complicated friendship, but he, along with womanizer Hoon (Ian Reed Kesler) and straight shooter Riley (Jessica Lucas, "Melrose Place"), are all distracted with their own dating trials and tribulations.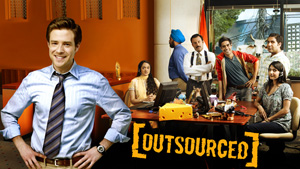 Outsourced – "Outsourced" is a comedy where the Midwest meets the exotic East in a hilarious culture clash. The series centers on the all-American company Mid America Novelties that sells whoopee cushions, foam fingers and wallets made of bacon — and whose call center has suddenly been outsourced to India. Todd Dempsy (Ben Rappaport, off-Broadway's "The Gingerbread House") is the new company's manager who learns that he's being transferred to India to run the operation.
Overwhelmed, Todd discovers that his new staff needs a crash course in all things American if they are to understand the U.S. product line and ramp up sales from halfway around the world. But as strange as America seems to his eclectic sales team, Todd soon realizes that figuring out India will be more than a full-time job. Rizwan Manji ("Privileged"), Sacha Dhawan (BBC's "Five Days II"), Rebecca Hazlewood (BBC's "Doctors"), Parvesh Cheena ("Help Me Help You"), and Anisha Nagarajan (Broadway's "Bombay Dreams") also star as members of Dempsy's off-shore team; Diedrich Bader ("The Drew Carey Show") and Jessica Gower (Network Ten's "The Secret Life of Us") additionally star.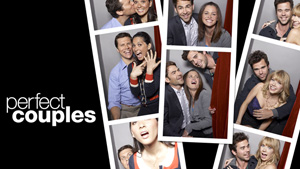 Perfect Couples – "Perfect Couples" depicts the misadventures of three engaging couples as they struggle to find out what makes the ideal relationship — and how to maintain it through humorous trial-and-error.  The series explores their heroic journey in search of the perfect relationship without destroying each other in the process.
Dave (Kyle Howard, "My Boys") and Julia (Christine Woods, "Flash Forward") are the relatable, normal couple, but Julia's hope of remaining the cool, low-maintenance chick is tested by Dave's attempts to keep both his wife and his needy best friend Vance (David Walton, NBC's "100 Questions") equally happy.  Vance, along with the neurotic Amy (Mary Elizabeth Ellis, "It's Always Sunny in Philadelphia"), are the high-passion, high-drama couple who bring out the best and worst in each other.
The third duo features Rex (Hayes MacArthur, "She's Out of My League"), a reformed party guy, and, and his wife, Leigh (Olivia Munn, "Attack of the Show"), who considers herself as the group's mother hen.  Believing that they are relationship experts, Rex and Leigh have attended every class and seminar on relationships — and regard themselves as the "perfect couple."
NEW LINE UP
Mondays: 8PM – Chuck | 9PM – The Event | 10PM – Chase
Tuesdays: 8-10PM – Biggest Loser | 10PM – Parenthood
Wednesdays: 8PM – Undercovers | 9PM – Law & Order: SVU | 10PM – Law & Order: Los Angeles
Thursdays: 8PM – Community | 8:30PM – 30 Rock | 9PM – The Office | 9:30PM – Outsourced | 10PM – Love Bites
Fridays: 8PM – Who Do You Think You Are /School Pride | 9PM – Dateline | 10PM – Outlaw
---
Follow TV Source on Twitter at @TVSource | Facebook Fan Page