This week in Gays of Our Lives, Jeffery finally lashes out at his mother's homophobic abuse, but what will his shocking behavior cost him? Find out on the The Haves and The Have Nots. While, on EastEnders, Paul's death has Ben feeling guilty and out for revenge. Plus, what is Ben hiding? And on Days of Our Lives, Sonny Kiriakis is back in Salem. But why the return? And what does it mean for he and Paul? Most of all, will it be interesting?  This is Days after all.  All this — and more!
PICKS AND PANS
Thi
s was a tough week to watch what with Paul being murdered by gay bashers and the fallout from that, but it was a powerful number of episodes.  The acting was perfection from everyone involved.  Harry Reid, as Ben, was excellent, especially in the scene where Ben first found out about Paul's death and Phil carelessly referred to Paul as Ben's friend.  He's really a fine young actor.  There were lots of scenes that made me mist up, if not cry.  I know the storyline going forward will be just as dramatic and sad and powerful.  But it's a story that is worth watching.
I supposed with Johnny being there for Ben, they'll eventually become a couple, but I hope the show takes it time with that.  Let's not rush Ben into a new relationship so quickly.  One touch I really liked was how Ben couldn't stop touching the tattoo with Paul's name on his finger. However, where is Ben's family?  We didn't see any of them, except for Jay, in the days after Paul's death.  I can see Phil keeping his distance, but you'd think Ian and Kathy would give Ben some attention.  I'm glad he's got Jay though and I really wish this contrived estrangement from the family ends soon.
I liked the bit about Les wanting to crossdress to deal with the stress of his grief.
---
This Aaron an
d Robert make up and break up stuff is boring.  They've been doing it over and over for months now.  Sure they were happy for awhile, but that was all off screen.  We got none of the 'honeymoon' phase on air.  Honestly, there are many times I'm not sure if they are together or another because the interaction is that same with Aaron bitching at Robert about something or other.
I'd like to think this last dumb breakup will be the last time, but probably not. Robert will commit some tiny slight and Aaron will throw him out. Personally, if I were Robert I'd be tired of it.  Aaron needs to just accept Robert for who he is or move on.  And I guess we're supposed to like Liv now that she's on Robert and Aaron's side?  Nah, I'd still be fine if we never saw her again.  Aaron being a surrogate dad is a stupid storyline. Always was, always will be.
I'm bored with Lawrence being the mean old drunk.  His being so cruel is kind of over the top and contrived, if you ask me.
And I hate that Finn is still  only used as comic relief.  Even Liv gets to make a fool of him.
I didn't like a lot this past week.  Hopefully next week will be better.
---
Let's face it. As much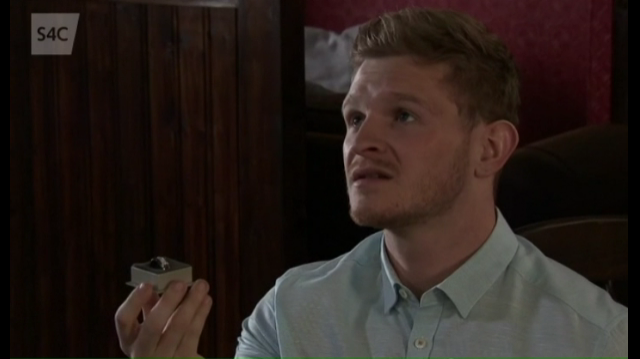 as I love Iolo and Tyler together they are rushing into this marriage.  The entire relationship has been rushed from the beginning to where they are now.  And with them planning to marry in a month, it's pretty obvious the wedding probably won't happen and it'll probably have to do with his father's legal problems.  Iolo still doesn't know why he was kidnapped or his father's part in that and I noticed William got another mention this week.  Is the whole story coming to come out, William returns and the show finally deals with that long neglected story?  God, I hope so.
As for this week, the Tyler/Iolo scenes were so sweet and there were a lot of them to enjoy. I'm glad that Tyler's illness was not serious and something easily resolved. There's enough 'serious medical issue stories' going on this show already.  I loved how they got back together and how they dealt with Tyler finally learning that Iolo had proposed to him and then forgot it.  The dual proposals were really sweet as was the bit about the engagement rings they'd chosen for each other.  I loved how they fixed that little issue.  There was just so much to enjoy this past week.
Of course this means the wedding will never happen and if it does, it'll be filled with drama.  But this is a soap opera so that's to be expected.  For now I'm going to enjoy the sweet moments.
---
The Haves and The Have Nots  (U.S.)
Wow. Now that's what you call cutting a bitch.  LOL..
I so did not see that ending coming. And as much as Veronica might have deserved that for all the horrible things she's said and done to Jeffery, violence is never the answer. That said, I screamed and clapped when it happened. It was an awesome moment in what's been a terrific season. Can't wait to see what happens next.
I just love that THATHN revels in being a fun, over the top, delicious soap. Soaps have forgotten how to just be fun and entertaining. And this show, despite it's flaws, does that every week.
CLICK HERE FOR TEASERS AND SPOILERS!