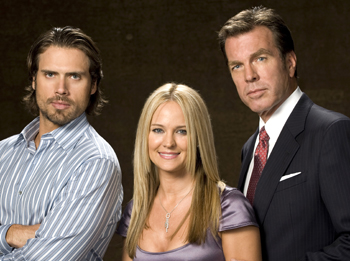 It's expected to be a drama filled fall on
The Young and the Restless
. Under the pen of head writers Maria Arena Bell and Hogan Sheffer, will
Y&R
have a better fall than last year? We'll have to wait and see.
Y&R Fall Previews 2008
BY: Trish Mahon & NOEL D.
EDITING BY: TARA BLAKE

Sunday, August 24, 2008, 7:15 PM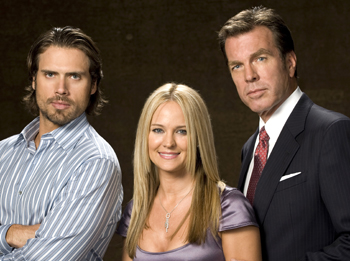 Victor and the Newmans:
Victor is presumed dead when in reality he is devastated by Sabrina's death and wants to be cut off from the world. He has been presumed dead before but this time there is evidence backing up that conclusion. The entire family is coping with his death. Another thing that is different is that Adam is here and that Victor's will was changed just weeks before Sabrina's death. Also, now that Ashley is coming back, how will her return impact Victor?
Jack/Sharon/Nick/Phyllis:
Expect more conflict and turmoil with the Restless Style group. Jack continues to believe that the more explosive articles they publish, the more the sales will go up. However, Nick and Phyllis are against this idea.
Cane/Lily/Chloe:
Expect fireworks with these three. Secrets and lies will be revealed and those secrets are not what everyone will assume they are.
Daniel/Amber/Colleen:
Daniel will emerge as an artist. His heart is with Amber but he is developing feelings for Colleen. Will he follow his heart or explore his feelings for Colleen?
The Winters Family:
After secrets are revealed by Tyra & Ana, their relationship with Devon is deepened. The family makes a sacrifice for Ana. The story will be about family.
Gloria/Jeffrey:
These two schemers fall in love but will they ever trust each other? Expect them to scheme together and separately.
Michael/River:
This will be an important story this fall. It will be Michael learning about himself by discovering who his father is; Michael will have surprises about who River is at heart; discovering part of his father in him.
Jill/Kay/Brad:
There will be upset at Jabot. In the wake of David's death, a lot will be uncovered about who knew what and when they had knowledge of it. Who will emerge as the leader. The person who calms the waters at Jabot is not necessarily who one would expect.
trish.mahon@tvsourcemagazine.com
|
djsoapbubble@tvsourcemagazine.com