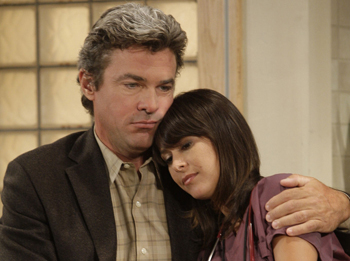 Mac takes action to ensure Robin and Patrick work things out.
GH Spoilers: Week of October 6
BY: Omar Nobles
NEWS EDITOR
Friday, October 3, 2008, 7:00 PM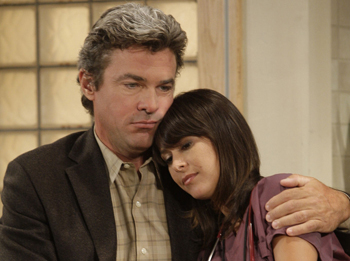 A Scrubs Engagement/My Friend Is Now My Enemy
Robin confides in Mac about Patrick not wanting to marry her. Max springs into action and arrests Patrick, forcing him and Robin to work thing out. It looks like Uncle Mac does know best, seeing as how Patrick and Robin work things out and set a wedding date. However, Patrick struggles with the secret he's keeping from Sonny and Robin.
Jason makes an enemy out of Sonny after he refuses to turn over power to him. Anthony offers Sonny to put his organization and resources at Sonny's disposal as part of the next phase of his plan. Though Sonny rejects Anthony's offer, a part of him is tempted to take him up on it. Sonny continues to lash out at those around him, warning Jason he will live to regret his decision to not return what he (Sonny) feels is rightfully his.
Kate refuses to believe Olivia when she claims Sonny never left the mob. Diane confirms Olivia's claim, angering Kate. When confronted, Sonny comes clean to Kate and reveals why he has to return to the business. Sonny later clashes with Olivia.
Port Charles Happenings….
Nadine is disappointed when Nikolas doesn't react to her kissing Spinelli the way she hoped. Elizabeth gives Nikolas some insight into Nadine's behavior. Jax and Nikolas animosity explodes when Nikolas tries to buy Carly's shares at the Metro Court, imagine how incensed he'll be when she agrees to sell her half of the Metro Court to Jax's foe. Nadine falls victim to Jerry.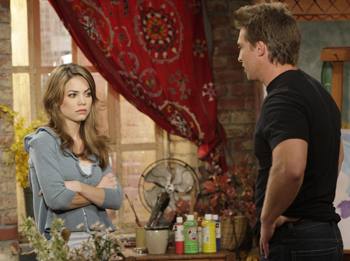 If dealing with an angry Sonny wasn't enough, Jason also has Max and Milo to deal with. When Max's father, legendary crime boss Maximus Giambetti (special guest star Vincent "Big Pussy" Pastore), arrives in Port Charles, Max is nervous to no end. Maximus is under the impression that Max runs things in Port Charles, unaware of the truth boss. Jason manages to go along with the ruse, but struggles not to lose his temper when Maxie takes Max's charade too far.
Can't Miss…..
Ric and Claudia give into their lust, while Johnny figures out what Anthony has done on Monday, October 6.
Johnny's rage is out of control when he finds Ric and Claudia in bed together. Claudia is forced to take action and Johnny leaves Claudia with an ominous threat towards Ric on Tuesday, October 7.
Jason admits to Elizabeth they might never be able to have a future together on Wednesday, October 8.
Maxie works overtime to keep Crimson afloat on Thursday, October 9.
Alexis is determined to take down Karpov; Karpov orders Jerry to kill Alexis, while Sam gets in deeper with Karpov on Friday, October 10.
Next week on General Hospital…
Kate turns to Carly for help. Claudia picked the wrong girl to mess with when Olivia gives as good as she gets. Alexis discovers disturbing information about Sam. Claudia continues to piss off people. Maxie and Spinelli form a plan to break Lulu out of Shadybrook. Nikolas and Nadine finally get things right. Tracy finds her no good husband. Sonny makes a drastic move when Jason refuses to give him what he wants. Tracy ends up in hot water when she tries to help Luke.
---


TVSource Magazine wants to know what you fans think in both primetime and daytime. Like/dislike a storyline or pairing on your screen? Do you want a fan favorite to return? Do you love/hate a character and/or their actions? Have a campaign you want to highlight? Send us your throughts, opinions and suggestions to be printed in the TVSource Mailbag to: mailbag@tvsourcemagazine.com
---
Discuss this news and more at the TVSource Magazine Message Board. Click HERE to visit

Contribute content to TVSource Magazine Content: Fans wishing to send-in news items, previews, show recaps, interview recaps, or anything else newsworthy can now do, with any desired credit, via e-mail by CLICKING HERE.