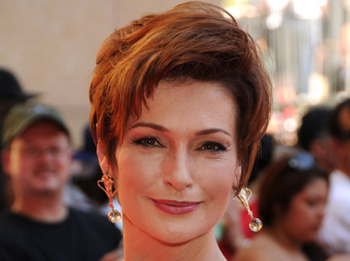 Carolyn Hennesy, an accomplished actress and author spends some time with
TVSource Magazine in promotion of her series of children's books.
A Sit-Down With Carolyn Hennesy
BY: JENNIFER
SNYDER
NEWS EDITOR

Saturday, November 8, 2008, 2:30 PM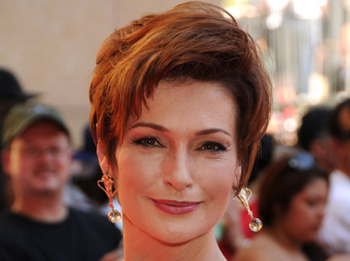 A feisty red headed attorney moved into Port Charles in 2007 and made her presence
known. In the past year, Carolyn Hennesy has gained popularity as mob attorney Diane Miller. With her take charge, no-nonsense attitude, Diane's had to put her foot down on
more than one occasion with town mobsters Sonny Corinthos and Jason Morgan. Diane, a bulldog in the courtroom, found herself mixed up in a romance with
bodyguard Max Giambetti this past year. Their opposites attract love
affair has made for some comedic relief on a rather dreary and dismal General
Hospital.
Carolyn Hennesy is a multi-talented entertainer. She has appeared on
daytime, primetime, stage, and screen and still has time to be an author of a
series of children's books. Carolyn can also be heard as the voice of a
variety of characters in numerous video games.  Before joining General
Hospital, Carolyn appeared in a variety of prime time television shows such as
Moesha, That 70's Show and Half & Half, though probably better known in her role
as Mrs. Valentine on Dawson's Creek.
Carolyn was gracious to give TVSource Magazine a few minutes out of her busy
schedule to conduct an interview with us.
Tell us about the series of books you are currently writing for
children.
 
It's the "Pandora" series…Mythic Misadventures. A teen-aged Pandora (Pandy)
finds the famous box of evils and takes it to school as her contribution to a
big class project.  Naturally, all "hell" breaks loose as the box is
accidentally opened.  Pandora is spirited to Mount Olympus where Zeus gives her
a choice: eternal torture and torment (for disobeying her father's orders never
to touch the box) OR, she has to go and get everything back in the box within
six months' time.  Pandy steps up to the plate (so to speak) and sets forth to
save the world.  Each book is dedicated to the recapture of a single big
evil…with lesser ones along the way.
Currently released are Pandora Gets Jealous and Pandora Gets Vain. When can we expect to see the
next book in the series to be released?
April of 2009…seems like a long time, but you wouldn't believe how fast it
flies!
Are there any book signings coming up for your readers to meet you?
Oh, how I wish there were!  My bags are always packed, as you might guess.  The
marketing department at Bloomsbury Children's Books really feels that this
series is going to take off like a rocket as soon as book one comes out in
paperback…but it's a bit of a catch-22… the hardcover is selling so well
that they have delayed the paperback release, but won't send me out to promote
the series (which is selling well) until the release of the paperback.  I kinda
scratch my head a lot…but they have been at this business a lot longer than I
have, and we have to remember that these are the folks who publish "Harry
Potter" outside of the U.S.  I'm not worried.  However, if there's any readers
out there who really want a book stop in their city…they should contact the
marketing dept. at Bloomsbury and make their feelings known!
What was it that inspired you to write this series of books about Pandora?
 
Another author heard me read a short story based on the same premise and
convinced me that it was much more that a short tale…it was a series of novels
for young girls.  He told me that he wanted to see outlines by the end of the
week and that I should start writing one thousand words each day which would
give me a completed novel in six weeks.  So I did…not really having a clue as
to what I was doing…but by the end of six weeks, I had Pandy. Fortunately, I
very quickly realized it was yet another avenue for my "voice"… it has been
such a joy to write.
Did you ever expect this series of books to take off like it has among your fans/readers?
Well, like anyone putting forth any artistic endeavor to the public…you hope, you know? You dream a little. But the success of Pandora Gets Jealous has just blown me away…and that can only bode well for the rest of the series. The thing that is the most gratifying is getting e-mails from young readers who love the work.  That makes all the tough moments worthwhile.
Has your writing affected you personally? Such as given you a new
perspective on life or changed you in some way?
Aside from allowing me to tap into my inner teen on a daily basis?  And when I
try my husband's patience, to be able to say "Oh, honey… it's all for the
books!"  Aside from that?  Well, I am much more keenly aware of keeping the
values I espouse in the series as even larger anchors in my own life…taking
responsibility for my actions, doing the right thing (or trying to), stepping up
to the plate when something goes wrong…supporting my friends.  These are the
character traits I want people to see in me.
Can we expect more children books from you or would you
like to try another type of writing, like drama or romance?
I have another idea for a novel for adults…not to be confused with an adult
novel…really.  It's scary and exotic and gothic.  I gotta get through the next
few years with Pandy first!  Of course, I would like to be involved in adapting
the novels into screenplays…Lord knows I've read enough of them, I should know
what I'm doing.
You recently participated in a Celebrity Fashion Show for charity, how was it walking down
the catwalk with everyone's eyes upon you? Were you nervous?
Honey, I was on and off that stage so fast it would have made your head
spin…they got started uber-late, there were some super-fine ladies in really
kicky clothes that went ahead of me, and the playmates in their bikinis were on
after me.  You know nobody was looking at my fantastic red dress…they wanted
playmates.  I did see Holly from The Girls Next Door walk past me on her way to
change…and, believe me, even I wanted to get offstage and go sit in the
audience.  That girl is stunning!
You had talked about the Diane and Alexis friendship during one of your message board chats and how much you enjoy working with Nancy. The writers don't seem to write for female/female friendships on the show, is that
frustrating for you?
Well…don't forget, I still haven't been on the show long enough to get really
frustrated by much.  I was on for only a year and they dropped the DiLex
friendship right in my lap.  It's very gratifying…and I think Guza knows
he has a real fan favorite in the two of us.  I can imagine, for someone
else on the show, it would be difficult to be a resident of PC and have
absolutely no female friends.  It's just not realistic.
Diane and Max look to be hitting a rough patch right now, who else would you like to see Diane
paired with? Were you surprised they paired Diane with Max instead of a more professional, career oriented character?
Luke or Ric or Mac…they're all favorites of mine.  And all of them, so sexy! 
But I know for a fact that Tracy fans would literally skin me alive and Ric
might just be a little too dark-spirited for Big D.  We'll see.  Right now, Max
is my guy and we're having such fun.  It is a little odd, at first glance, why a
professional woman like Diane would fall for "a big lug."  But then, if you
think about it, it makes perfect sense:  he doesn't tax her intellectually…he
just loves her the way she is, no change required.  She can be with Max and
really let the cares, stress and intensity of the day fall away. That's heaven
for Diane.
Many fans enjoy your scenes with Bradford (Spinelli), how is it working with him?
The man is, hands down, a genius. And kind. And funny onstage and off.  And
extremely generous as an actor.  That's what happens when you are or get to be
very secure with who you are and what you bring…you can afford to be really
generous.  I hope to work with Bradford more…because, and I'm certain about
this, Diane will be revealed as Spin's mom.  (No, I do not know this to be
true… I'm just hoping really, really hard.)
You are working on a few films in the coming months. A short film called Boob Jobs & Jesus, a feature
film called Shattered!, and another film called Necessary Evil. Three totally different type films, tell us a little about them and what's in store for movie go'ers.
BJ&J is a short written, produced and starring a friend and wonderful actress named Ursula Whittaker.  I play her mother who never quite grew up.  Ursula's character has written her first semi-autobiographical book and I crash her first book signing, causing quite an uproar.  Very funny!
Necessary Evil is an interesting thriller.  Big honking evil inside a government facility…plucky girl reporter wants to reveal the secret and get the scoop of the century.  Turns out to be a little more evil than she planned and not everyone wants her to succeed.  I play…her mother…in a series of dream
sequences.  I think I'm dead…or something.
And Shattered?…bless my soul…I can't even remember this.  But, I'm sure
it's a wonderful film. Yikes!
---
If you are interested in purchasing one of Carolyn's children's books, you
can find the series on Amazon.com  You can also find out more about Carolyn
at her official website or add her to your friend's list on MySpace. She
also has an official message board where fans go to discuss the goings on with Diane Miller.
TVSource Magazine would like to thank Carolyn for taking the time to talk with us. We'd also like to issue a special thank you to Michelle Bell for all her assistance. We wish Carolyn all the best
with her new series of books. This was indeed a pleasure.