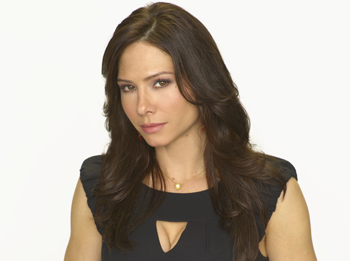 Sarah Brown inks a new deal for another year on General Hospital.
GH's Sarah Brown Re-Signs
BY: JENNIFER SNYDER
SENIOR NEWS EDITOR
Tuesday, December 2, 3:30 PM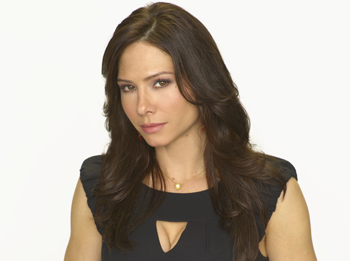 Announced this morning on her FaceBook page, Sarah Brown has signed a new deal with ABC's Emmy Winning drama, General Hospital. Her new deal will extend her role on the show for one more year.
Sarah re-joined the soap in January 2008 as Claudia Zacchara after a 7 year absence from the soap. Brown debuted on General Hospital in 1996 as Carly (Caroline) Benson and over the course of 5 years she garnered a large fanbase for the character of Carly. During her first stint on GH, Sarah's pairing with Maurice Benard had many GH fans falling head over heals for Sonny and Carly. The couple had angst, love, romance, and plenty of drama to keep fans tuned in every day to watch what came next for the couple.
Sarah departed the show and tried her hand at primetime and other projects outside of daytime. Some of her primetime credits include Crossing Jordan (2004), L.A. Dragnet (2004), Strong Medicine (2004), and Without A Trace (2005). She landed a recurring role on CBS' crime drama Cold Case in 2005. She dipped back into daytime when she accepted the role of Julia Jackson on the CBS daytime soap, As The World Turns in 2004. Sarah also appeared in the Lacey Peterson made for Television movie, The Perfect Husband. In 2006, Sarah appeared in the feature film, Big Momma 2 with Martin Lawrence and Nia Long.
Sarah has enjoyed much success on GH, including 5 Emmy nominations in her role as Carly Benson Corinthos. Sarah took home Emmy gold on 3 occasions, in 1997 (Outstanding Younger Actress in a Drama Series), 1998 (Outstanding Younger Actress in a Drama Series), and 2000 (Outstanding Supporting Actress in a Drama Series).
Sarah's return to General Hospital was a well anticipated one by many fans of General Hospital. Paired once again with Maurice Benard's character, the outlook on this pairing looks to be pretty good. It looks like the writers are hoping to strike gold twice with Maurice and Sarah, this time with the pairing of Sonny and Claudia.
To keep up to date on Sarah and her career, you can check out
Sarah's official website.
---
Discuss this news and more at the TVSource Magazine Message Board. Click HERE to visit

Contribute content to TVSource Magazine Content: Fans wishing to send-in news items, previews, show recaps, interview recaps, or anything else newsworthy can now do, with any desired credit, via e-mail by CLICKING HERE.