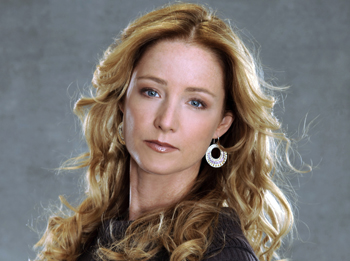 Sometimes we're forced to look at the person we are now, and remember the person we used to be.
Fallen Angels
Todd soars from the Palace Roof to end Marty's pain. John McBain, plays guardian angel once again as he pulls Todd from the icy waters, and Blair performs mouth-to-mouth resuscitation. Marty is furious with John for saving Todd's life. Blair and John leave together but their emotions are confused. Marty collects herself in Angel Square, which should perhaps be renamed Hell's Angel Square after Marty accepts a ride from a stranger on a motorcycle. Wes (the Harley's Angel) and Marty recall the prior evening's events and bond over their messed up lives. John McBain, ace detective, finds Marty with Wes and insists she leave with him, but Marty tells him to butt out. John is concerned about Marty's behavior and how she's coping.
Tea informs Viki of Todd's suicide attempt and pleads with her not to turn her back on her troubled brother. Blair unloads on Todd about his latest stunt. She leaves him with a picture of his family and tells him to think of the man he used to be. Todd then confesses his entire plot to kidnap Starr's baby to Tea, who suggests to him that Janet could be his angel of death. Nora asks Antonio and Talia to do all that is necessary to find Janet.
Long Live King David
Clint and Nora are confounded by David's metamorphosis and hope they have time to keep him from taking Buchanan Enterprises. Dorian discovers the truth about David at St. Blaze's and a new scheme is borne. Clint has a job for Jared, who approaches David with some cash to get him to leave town, but the "new" David isn't bound by the material world.
Elsewhere In Llanview….
Sarah informs the authorities about Cris's sham of a marriage. Layla can't believe the depths to which Sarah sunk to keep her man and suggests that Sarah is more like Tina than she wants to admit. When Cris finds out what Sarah's done, they have it out, and Sarah makes plans to leave town.
Can't Miss …
Natalie and Jared look forward to their future on Monday, January 5.
Bess emerges while Viki is visiting Jessica and warns her to back off, and tells Viki she isn't forgiven for what happened when Jessica was a child on Tuesday, January 6.
Jessica apologizes to Brody for what Tess did to him and they agree they want to continue as friends on Wednesday, January 7.
Cole and Starr have a rough day at school, and Asher offers Cole a joint on Thursday, January 8.
Scott Clifton first airs as Schuyler Joplin on Friday, January 9.
Coming Soon: Week of 1/12
Viki can't turn her back on Todd. Bo and Nora confront Matthew with what they've discovered. Jessica remembers more about the night she gave birth. Tess pleads with Viki to find the truth. David is tempted by Dorian's advances.
---
If you copy and paste our spoilers, please credit TVSource Magazine and/or provide a link back.