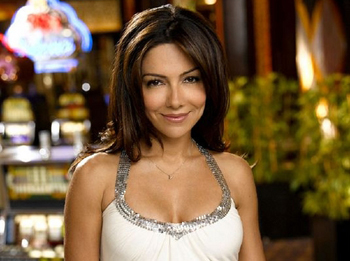 Primetime beauty to star in made for TV movie for Hallmark channel.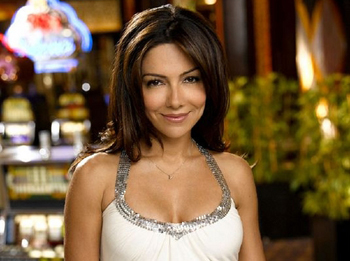 Primetime star Vanessa Marcil has moved from fashion world of Lipstick Jungle to the chaotic world of babysitting as she portrays Kate, a young woman who takes a job as a nanny in the made for Television movie, The Nanny Express. Vanessa will share the screen with several familiar names like Stacy Keach (Rev. MacGregor), Dean Stockwell (Jerry), Natalie Dreyfuss (Emily) and Brennan Elliott who plays David.
A young woman, Kate, takes a job as a nanny for a widower and his two children, who have already run off 6 other nannies prior to Kate. The young son is the first to warm up to the new nanny as the young widower tries not to fall in love with the young beautiful woman. Still grieving for the loss of her mother, the teenage daughter takes issue with having a new woman in her father's life and does not approve of her getting close to her father so soon after her mother's death.
Marcil has had much success since leaving Daytime's Emmy winning drama, General Hospital, where she has been a fan favorite in her role as Brenda Barrett since 1992. Marcil has reprise the role of Brenda on several occasions since 1998. She went on to portray Gina Kincaid on Aaron Spelling's hit series Beverly Hills 90210 from 1998-2000, and landed the primetime role of Sam Marquez on NBC's series Las Vegas in 2003. Marcil called Las Vegas her home for 5 more years until the series finale in 2008. Shortly after Las Vegas aired their final episode, Vanessa took the role of Josie Scotto on the primetime series Lipstick Jungle.
Long standing rumors of Vanessa returning to General Hospital as Brenda Barrett have kept her on the front pages of every soap opera magazine on the news stands for several years. Many GH fans have kept the hope that one day, Marcil will return to Port Charles as feisty Brenda Barrett. The Nanny Express will air on January 3, 2009 on the Hallmark channel.
---
Discuss this news and more at the TVSource Magazine Message Board. Click HERE to visit

Contribute content to TVSource Magazine Content: Fans wishing to send-in news items, previews, show recaps, interview recaps, or anything else newsworthy can now do, with any desired credit, via e-mail by CLICKING HERE.