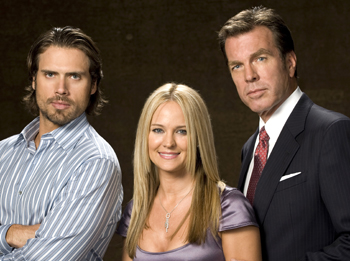 Giving up mediocrity for the better soap – A former GH fan's view on The Young and the Restless.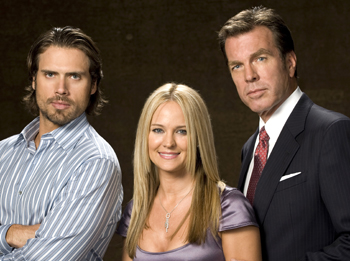 After watching General Hospital for 30 years, I had finally had reached my limit of what I was going to take from the show. I've watched pretty much continuously throughout the 30 years, taking a break from watching during the early 90s but had come back by 1996. Since then the mob on GH had taken a front seat and it continued to dominate the screen. I was on mob overload and I needed another soap to watch.
It was suggested to me that I turn on The Young & The Restless on CBS. Me being an ABC girl, I had never watched a CBS show in all of my soap viewing years. It was going to be a hard pill to swallow for this fan to turn on something new, and a show I knew nothing about. But with a little persuasion, I tuned in to Y&R and it only took a few episodes to get me hooked. I have been GH free since the end of September and I don't miss it. It wasn't a hard habit to break much to my surprise.
There is an obvious difference between GH and Y&R, especially to this former GH watcher. Y&R is a more balanced soap; they use their more mature cast, unlike GH who hides anyone over the age of 45 in the closet. Y&R doesn't dominate the screen with only a select few characters, they use their cast wisely and each storyline is given ample airtime so watchers do not get bored of seeing the same people every day. Unlike GH who uses only 10 to 12 characters on a daily basis and the rest are given zero air time and no story to speak of.
Here's another foreign concept to GH, actually showing a love scene on screen with the mature characters, hell even a love scene with any character without making it sleazy and nasty. A married couple enjoying an afternoon in bed together would never happen on GH, yet Y&R seems to enjoy giving their viewers an afternoon of romance. THIS is what soap should be all about — a good combination of romance, drama, angst and LOVE. Yet GH is giving its viewers mob shoot outs, children being kidnapped, explosions and cows. I smell a Daytime Emmy for GH. (insert eye roll).
Family drama, angst, romance, corporate intrigue and the use of show and character history are all major points that Y&R uses on their show. (It's a novel concept, GH should try it sometime.) There have been scenes over the past few weeks that have delved back into history regarding Nick/Sharon/Phyllis/Jack quad. Story that goes back quite a few years ago and the show is using their history to continue the story between these 4 characters and in addition to the quad story, the writers have these 4 involved with other stories that are currently on the canvas and being shown on screen. Nick is dealing with Victor and running Newman and Restless Style, Jack is involved with the Victor story as well, as is Phyllis and Sharon.  Sharon is dealing with Noah and his new girlfriend, which also involves the other 3 and Lauren and Michael Baldwin. The quad are connected with so many others that their romance/angst story doesn't dominate the screen, but those characters are seen involved in other things going on in town. The story itself is well written and well edited, it flows very well and I, as a viewer, am not left connecting dots on my own, but it's told on screen and there are no dots for me to connect. Unlike GH who likes to imply a lot of its story and it's up to the viewer to fill in the blanks.
Oh did I forget to mention the women on Y&R and how they are strong, independent and professional business women? Yes it's quite the concept that I don't think I've ever seen on GH. Think of it — actual mature women who have a high position in running a company, have a family to take care of and a husband who loves them. A woman who has their own independence, who are not spewing how they are nothing without a man, and who are not allowing the man in their life to define who they are. Women who are strong and intelligent who take charge in the bedroom as well as in the boardroom. Corporate drama that is currently happening between Newman Enterprises and Jabot Cosmetics should be what GH doing with the Quartermaines and Cassadines, but oh I forgot that show killed off most of those families and now have the Prince Cassadine milking cows and the eldest Quartermaine daughter chasing after her no good husband who can't seem to get over his ex wife, of course that is only when she is allowed out of the closet to actually appear on screen.
As I said before, I have never watched Y&R or any other CBS soap in all my soap viewing years, yet Y&R can make me feel and be moved by characters I know nothing about. That tells me not only is the actor doing his/her job, but the writers are too. This is a combination that I have not seen on GH in quite a long time. Sure the actors on GH are talented and given the good material can sell a story to the viewer, but it's been a long time since I've been moved to tears by any story on GH.
Going back to the quad with Nick/Sharon/Phyllis/Jack, the confrontation with Phyllis and Nick touched me and I felt for Phyllis without Michelle Stafford taking the character all crazy and weepy. It was subtle and the hurt was on Michelle's face, not the words that came out of her mouth. Noah's scenes with Jack and Sharon were emotional.  I felt for this teenager who has been through the wringer with his parents and their infidelity. The story all the way around is exceptional and the actors are doing an amazing job with the material they are given.
When it was suggested to me to turn on Y&R, I gave excuse after excuse why I shouldn't turn it on, and now that I have and I have watched the show for the past 10 months or so, I can honestly say that I am very pleased with Y&R and wondering what took me so long to find this little gem of a soap on CBS. Of course the best aspect about Y&R is that there is NO MOBSTERS! No Sonny, no Carly, no Jason, no Sam, no mob whatsoever. It is a refreshing feeling to finally watch a soap opera and enjoy it from beginning to end and not fast forward any segment, story, or character.
It's what a soap should be and yet ABC daytime, GH in particular, gives its viewers the Beverly Hillbillies and the Godfather. I don't understand the appeal to it, but there are viewers out there who enjoy what GH is producing currently. This fan will leave you with enjoying Guza's version of GH; I will be enjoying the better soap on CBS and in daytime, The Young & the Restless.