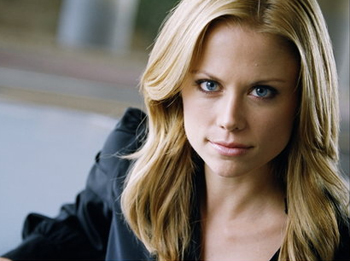 Not surprised by this move by GH to take Claire Coffee off contract.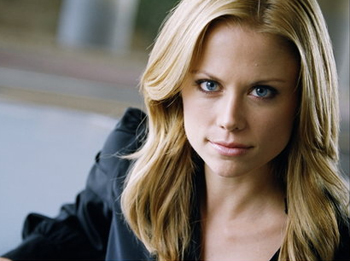 TVSource Magazine has learned Claire Coffee has been taken off contract. Claire made a statement to her fans at her Official message board this evening.
Hi Everyone!

It's been a while since I've stopped by…

I sort of figured this was coming, but wanted to be absolutely certain until I relayed the news.
I have been taken off contract, effective February 8. It's a mutual decision; I completely understand the stresses of the producers and writers and the Nadine storyline seemed to coming to a close. I won't be exploding in a ball of hospital flames, but you probably won't see me much around the hospital, either. Tough times in the economy, Port Charles included! Jill Phelps has been incredibly supportive and I have nothing but respect and reverence for my time at GH. Thank YOU ALL for your support.

Signing off,

Claire
Claire debuted on General Hospital as quirky Nadine Crowell in 2007, coming to Port Charles after her sister Jolene (Amanda Baker), had fallen into a coma after terrorizing the hospital staff and patients during season one of General Hospital: Night Shift. Over the past year, Nadine found herself in a storyline with the resident Prince of Port Charles, Nikolas Cassadine (Tyler Christopher). Their relationship began after Nikolas' fiancée Emily Quartermaine was brutally murdered by Diego Sanchez, the Text Message Killer. After her death, Nikolas began "seeing" Emily due to what was later revealed to be a brain tumor. Throughout the ordeal, Nadine showed her concern for him, relating to him on a personal level. Overtime Nadine fell in love with Nikolas, despite his subtle and not so subtle rejections. It took realizing what life could be without Nadine to make Nikolas realize he cared for her more than just a friend. Recently, GH introduced some of Nadine's family, but fan response was lackluster for the new incoming family members.
Prior to joining the cast of General Hospital, Claire had extensive list of acting credits to her name, having guest starred on numerous primetime series and made for television movies. Her interest in acting began as a young child, where she honed her skills as a theatre actress. Claire continued her studies at Northwestern University, majoring in Drama and Theater. Claire's also been able to show a little of her comedic side on the show with Nadine getting herself involved in situations she probably shouldn't. Currently she's also found herself in the middle of the counterfeit drug storyline, interacting with GH newcomer Jason Cook (Matt Hunter), Sebastian Roche (Jerry) and Nazanin Boniadi (Leyla) and vets like Kin Shriner (Scotty) among others. "The drug storyline has been great in introducing me to Port Charles and some of the legacy characters of the show. Jason loves to improvise, so working with him is always fun. Kin is a riot. Tons of energy and so much history with the show!" Claire told
TVSource Magazine
in a recent interview. We at
TVSource Magazine
wish Claire all the best in her future endeavors.