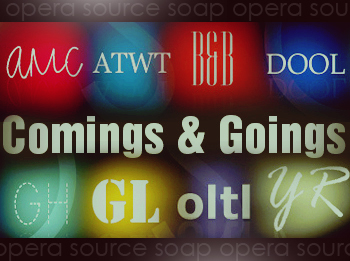 Daytime's coming and goings for the week of May 5, 2009.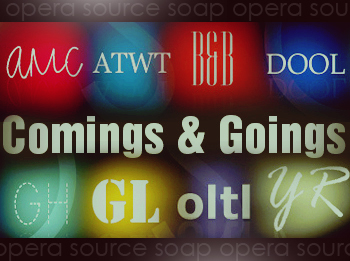 The revolving door of Daytime is forever swinging and in the most recent weeks has been no exception. Newcomers, welcomed returns, and cameo appearances grace daytime screen in the coming months. How will these comings and goings effect your favorite show? You will have to tune in to find out!
All My Children
Leaving Pine Valley
Eden Riegel (Bianca Montgomery Williams) and Tamara Braun (Reese Williams) exit Pine Valley on April 30th
As The World Turns Comings and Goings
Coming to Oakdale
Cady McClain (Dixie, AMC) is returning to As The World Turns on May 20!
Ed Fry will be appearing as Alison's (Marnie Schulenburg0 father. He arrives in Oakdale on May 25.
Leaving Oakdale
Nicholas Gallbraith and Melinda Sullivan (Zac and Zoe Finn) will be arrested and sent to prison and exit the canvas.
The Bold and the Beautiful
Coming to Los Angeles
Joanna Johnson returns to LA as Karen on April 28th and 29th after her father passes away.
Daniel McVicar will appear as Clarke Garrison on April 29th for the reading of Bill Spencer's will.
Days of Our Lives Comings and Goings
Coming to Salem
Brendan Coughlin will appear as Tad, a guy from Mia's (Taylor Spreitler) past on April 29th.
Frederico Dordei returns as Masi, the Dimera hit man on April 30th as he tries to finish the job to take out Phillip.
Leaving Salem
Rachel Melvin (Chelsea Brady) will leave town next week.
General Hospital Comings and Goings
Coming to Port Charles
Billy Dee Williams will return to Port Charles as Toussaint Dubois, the musician turned janitor, when he stops by to check on Epiphany Johnston (Sonya Eddy). Williams returns in early June.
Guiding Light Comings and Goings
Coming to Springfield
Jeremy Palko will portray Jackie, a young man who befriends Ashley (Caitlin VanZandt) at Universal Studios. He will appear from April 28th-May 1st.
One Life to Live Comings and Goings
Coming to Llanview
Jessica Kaye will portray Rebecca Lewis, the one time lover of Todd Manning (Trevor St. John) and Powell Lord's former fiancee. She resurfaces on May 1st.
Sean Moynihan returns as Powell Lord III who has been institutionalized since 1994. Sean previously portrayed Powell in 1993-94. He returns on April 30th when John and Marty go in search of the real killer.
The Young and the Restless
Coming to Genoa City
Tricia Cast makes a return appearance as Nina Webster on May 1st. Cast, previously returned as Nina in November 2008 for Katherine's funeral.
Beau Kayzer
returns as Katherine's son Brock Reynolds to officiate his mother's wedding on April 30th.
David Leisure and Marcia Wallace
return as Roger and Annie Wilkes, Kevin's kidnappers on April 30.
Della Reese
makes a special appearance in Genoa City as Devon's aunt. She visits Genoa City on May 18th.