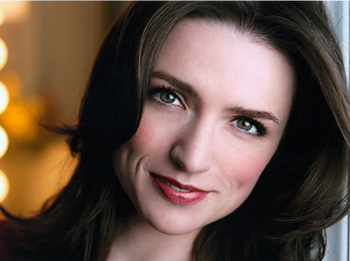 Charissa Chamoro returns to Daytime as she steps into a new role on As The World Turns
After 7 years away from the genre, Charissa Chamorro returns to Daytime as she takes on a new role on CBS' As The World Turns. TVSource Magazine was given the opportunity to speak with Charissa about her return to Daytime and her most recent experience on the CBS soap.
TVSource Magazine: What are you looking forward to most about working on As The World Turns?
Charissa Chamorro: I always thought As the World Turns is a fantastic show. When I got the role I was so excited that I'd be working with Terri Colombino (Katie Snyder) who I've known for years. Roger Howarth (Todd Manning, One Life to Live; Paul Ryan, As the World Turns), who I worked with on One Life to Live, is also there now. And Jennifer Pepperman, who used to be a producer on One Life to Live while I was on the show, directed one of the days I worked. It was great to see her again after so many years. The open, warm environment of the cast and crew and knowing so many people on set made the whole experience feel so fun and natural.
TVS: What are your thoughts about the character you will be playing?
CC: The character is mysterious and is brought in to "stir the pot" a little bit, which always seems to be my job! I can't tell you too much more because I don't want to spoil the fun for the fans of As the World Turns, but I will say I am brought in by Katie to appear on Oakdale Now. What I can tell you is that I had a fantastic time working with Terri and Austin Peck (Brad Snyder)!
TVS: You had your daytime debut on ABC's One Life to Live. What was your experience like working on One Life to Live as a newcomer to daytime?
CC: One Life to Live was my first professional job out of college, and it was a wonderful experience. I had watched the show growing up and within my first few days on set, I had the opportunity to work with genuine professionals like Erika Slezak and Robin Strasser. Everyone at One Life to Live was welcoming and supportive, and they taught me a tremendous amount about the difference between acting for television and acting for the stage (which is what I focused on at Boston University). Shortly after I began what was supposed to be a three-month stint I was offered a full contract. And I credit that not only to the tremendous fan support but also to the vocal support of Erica, Robin, Bob Woods and Mark Derwin.
TVS: As an actress who formerly portrayed a character on Guiding Light, what are your thoughts on being a part of a legacy show that is now canceled?
CC: I, like the rest of you, just found out that Guiding Light will go dark in September after 72 years. I still have friends in the cast and on the crew and my heart really goes out to them and the loyal fans of the show. I think Guiding Light is a wonderful show and I feel truly blessed to have been a part of it. I thoroughly enjoyed my time there and being able to work with actors that are so talented and professional. I'm delighted that another great mentor of mine, Jerry verDorn, who I worked with almost daily on Guiding Light is now on One Life to Live, working with Erika Slezak!
TVS: You have had several years away from daytime, what were you feeling when you stepped back on the set? Was it easy for you to come back to the genre?
CC: It was a real pleasure arriving on the set of As the World Turns since so many of my friends from One Life to Live and Guiding Light are now working there, both in the cast and as part of the crew. Although it was my first appearance in Oakdale, I was actually surprised how comfortable I was my first day — it almost felt like I was coming home. I think that because my first professional jobs were in daytime I'll always feel comfortable doing this work. I love the creative opportunities I have had in theater and film, but there is something really special about the challenge of daytime — mastering such an enormous amount of material in such a short amount of time. The pace in daytime is by far some of the most exciting work I have ever done. And working with Christopher Goutman was fantastic. I knew that he was the show's Executive Producer and also directed episodes, but I was blown away by how quickly he worked, getting these really wonderful fresh takes from the actors.
TVS: You have a couple films being featured at upcoming film festivals. What are they about?
CC: "The Marconi Bros.", which has been making the film festival circuit and was just screened at the Lincoln Arts Academy Film Festival on March 28, is a wonderful comedy about two brothers who leave the comfort of their family's carpet business to make it big as wedding videographers. It's a really sweet and funny film that was written and directed by these two young filmmakers who were actually in the wedding video business!
"Hysterical Psycho" is about members of a theater company who go into the woods to go find themselves, and also find something horrible. It is having its world premier at the Tribeca Film Festival in New York City on April 24, 2009. Director Dan Fogler really played with horror clichés, and I think that audiences will enjoy how the film turns the horror genre on its head.
TVS: Are you going to be pursuing more daytime roles after your stint on As the World Turns?
CC: This was a special guest appearance, and although I hadn't pursued it, my short time on As the World Turns reminded me how much I truly love, and miss, that creative environment. Now, unlike my character on As The World Turns, I can't predict the future — but I do hope that I connect to the fans!
---
This interview is not to be reproduced without written consent from the author and TVSourceMagazine.com © 2009 TVSource Magazine. All rights reserved