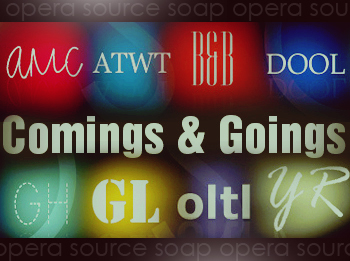 Daytime's coming and goings for the week of August 3, 2009.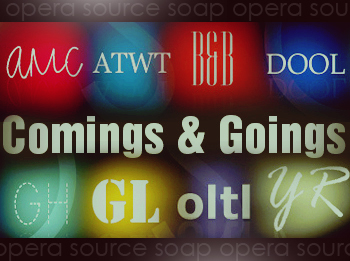 The revolving door of Daytime is forever swinging and in the most recent weeks has been no exception. Newcomers, welcomed returns, and cameo appearances grace daytime screen in the coming months. How will these comings and goings effect your favorite show? You will have to tune in to find out!
ALL MY CHILDREN
Leaving Pine Valley
Walt Willey who portrays Jack Montgomery will be taking a hiatus from All My Children. Jack is sent to Europe, keeping him from representing Annie. ABC would not reveal anything more than "This is just the way the storyline is going now, nothing more."
AS THE WORLD TURNS
Coming to Oakdale
Ewa da Cruz returns as Vienna Hyatt the week of August 3.
Michael Woods will be coming to Oakdale as Jay Stanhope, Audrey's (Lynn Herring) boyfriend. He debuts on August 3.
DAYS OF OUR LIVES
Coming to Salem
Kevin Spirtas will reprise his role as Chloe's father, Dr. Craig Wesley. A comatose Craig was last seen in 2005. Kevin is scheduled to appear for 3 episodes, first returning on August 28 and leaves Salem on September 3.
GUIDING LIGHT
Coming to Springfield
Maureen Garrett (Holly Lindsey-Reade) will arrive in Springfield on August 26 and reunite with her daughter, Blake (Elizabeth Keifer). Garrett has portrayed Holly since 1976, her last appearance in Springfield was in 2006.
Dorothy Lyman (Joanne) will be arriving in Springfield on August 3. Lyman originated the role of Opal on ABC's All My Children.
Fiona Hutchison will be coming to town as Jenna Cooper. Jenna's ghost will be appearing on July 29 and again on August 13.
Tom Pelphrey returns to Springfield as Jonathan Randall. He returns on August 5.
ONE LIFE TO LIVE
Coming Llanview
Catherine Hickland
returns to Llanview as Linsdey Rappaport on July 31.
Frankie Negron
appears as himself and will be performing selections from his new upcoming album. He will be singing in both English and Spanish as he serenades Todd and Tea on August 4.
Tuc Watkins
returns to Llanview as David Vickers. He is slated to return on August 10.
THE YOUNG AND THE RESTLESS
Coming to Genoa City
Raya Meddine
will be returning as Sabrina Newman, Victor's deceased wife. She makes another ghostly appearance on July 31.