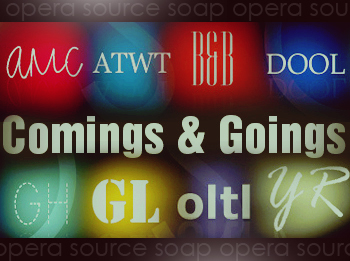 Daytime's coming and goings for the week of July 26, 2009.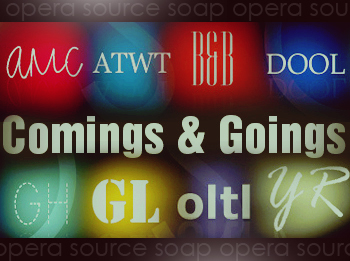 The revolving door of Daytime is forever swinging and in the most recent weeks has been no exception. Newcomers, welcomed returns, and cameo appearances grace daytime screen in the coming months. How will these comings and goings effect your favorite show? You will have to tune in to find out!
AS THE WORLD TURNS
Coming to Oakdale
Lynn Herring will be appearing in Oakdale as Henry's mother, Audrey. She makes her debut on July 27.
Vanessa Ray will be coming to Oakdale as Teri Cicone, Janet's sister. She arrives on July 23.
THE BOLD & THE BEAUTIFUL
Coming to Los Angeles
Jim J. Bullock will reprise his role as Serge on August 12, 13, and 14.
Morgan Fairchild will appear as Dottie, a socialite gal pal of Stephanie Forrester. Her visit prompts a competition of fashion between Forrester Creations and Jackie M. Fairchild on August 12, 13, and 14.
Melissa Rivers will be appearing as herself as she is guest judge at the fashion show. She also appears on August 12, 13, 14.
Alan Thicke will also be appearing at the fashion show as the arrogant talk show host, Richard Ginger on August 12, 13, 14.
GENERAL HOSPITAL
Coming to Port Charles
Sebastian Roche will be returning to the show as Jerry Jacks. He returns to shake things up the week of July 27.
GUIDING LIGHT
Coming to Springfield
Fiona Hutchison will be coming to town as Jenna Cooper. Jenna's ghost will be appearing on July 29 and again on August 13.
Tom Pelphrey returns to Springfield as Jonathan Randall. He returns on August 5.
Michelle Ray Smith comes home to Springfield as Jeffery's (Bradley Cole) daughter, Ava. She comes home for Jeffery's funeral on July 24.
Leaving Springfield
Jessica Leccia is currently on maternity leave, but she is scheduled to return as Natalia Rivera for the final show.
ONE LIFE TO LIVE
Coming Llanview
Lea Delaria
returns to Llanview as psychic Madame Delphina on July 27.
Nicholas Rodriguez
joins the cast as Nick, a friend of Kyle (Brett Claywell). He debuts on August 14.