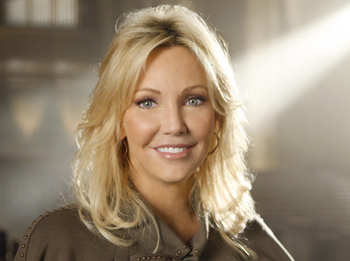 The bitch is back — and she brought some viewers with her!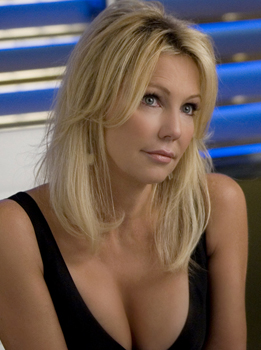 The bitch is back – and she's brought some viewers with her. Heather Locklear's much publicized return to Melrose Place last night brought the CW a bump in the ratings game. Melrose delivered its best women 18-34 rating (1.6/4), women 18-49 rating (1.1/3) and total viewers (1.54mil) in six weeks (since the October 6th episode). These figures are according to preliminary live plus same day Nielsen ratings for Tuesday, November 17, 2009.  Week-to-week, Melrose improved 33% in women 18-34, 38% in adults 18-34 (1.1/3), 22% in women 18-49 and 20% in total viewers.
Melrose lead-in, 90210, was at or just above its season average in women 18-34 (2.3/6), adults 18-34 (1.5/5), women 18-49 (1.5/4), adults 18-49 (1.1/3) and viewers (2.1mil).
These numbers will only climb once Live+7 day ratings (a.k.a. DVR viewership) are accounted for.
Tuesday night's Melrose saw what we at TVSource Magazine have been asking for since the start — sex, scandal and bite. It certainly wasn't perfect by any means, but its finally starting to feel like it may be getting down to what Melrose should be all about. The episode was a bit superficial, but we're giving showrunners Todd Slavkin and Darren Swimmer the chance to let Melrose 2.0 dive deep into its characters and tell soapy storylines.
Tuesday's 90210 saw the show focusing more on Shenae Grimes' Annie, something the show has really shied away from this season as they've slowly built up Annie's storyline. Watching the Wilson family deal with the accusation that Annie's boyfriend Jasper (Zachary Ray Sherman) is a drug dealer was an excellent new update to the Guess Who's Coming to Dinner motif. Kelly's (Jennie Garth) breakdown when she thought her mother, Jackie (Ann Gillespie), had died was not only a poignant scene to watch, but it lead to some serious denouement when Kelly finally visited Jackie on her deathbed and Jackie told her that she was holding on just to see Kelly. The "b storyline" with Ryan (Ryan Eggold) and Jen (Sara Foster) definitely deserved a spot on the cutting room floor, but the first encounter in weeks for Naomi (Annalynne McCord) and Liam (Matt Lanter) more than made up for that. The shocker at the end with Navid (Michael Steger) and Jasper was something out of the original Melrose Place.
90210 seems to be improving week-to-week this season and has really benefitted from the creative renovation Rebecca Sinclair crafted midseason last year. Are you taking notes, Slavkin and Swimmer? Because you should be.
Follow TV Source on Twitter at @TVSource | Follow Tara Blake on @SourceTara