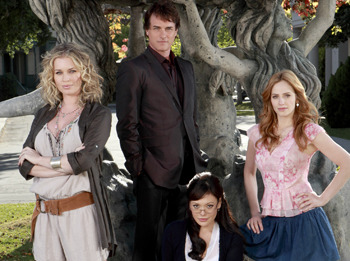 ABC cancels its freshman dramedy "Eastwick"; orders more episodes of "The Forgotten."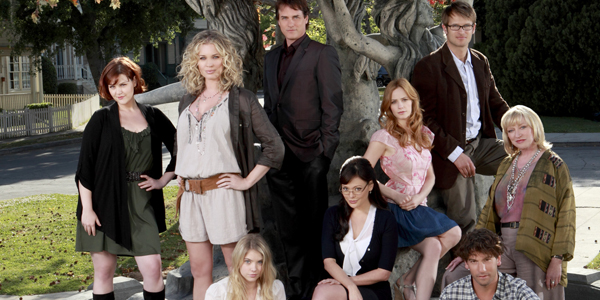 Poor Rebecca Romijn can't catch a break. ABC recently announced that it has canceled its freshman dramedy EastWick, based on the John Updike novel "The Witches of Eastwick" and the 1987 film of the same name, which starred Jack Nicholson, Cher, Michelle Pfeiffer and Susan Sarandon. The network confirmed the series won't run any longer than its initial 13-episode order. ABC has pre-empted the show for the next two weeks, with airing of the CMA Awards this Wednesday, and Diane Sawyer's highly anticipated interview with the legendary Janet Jackson on November 18.
The show stars Rebecca Romijn as Roxanne, Lindsay Price (ex-An Li, AMC; ex-Michael, B&B) as Joanna and Jaime Ray Newman (ex-Kristina, GH) as Kat – three women who are connected through a wish made that brings trouble to town. Eastwick, part of the ABC Wednesday Night Line up, failed to cast a spell and was ABC's least watched series this fall. The show debuted with 8.3 million viewers but has since suffered ratings erosion each week since the premiere. The most recent episode, "Red Ants and Black Widows" only brought in 4.6 million viewers.
Maggie Friedman, executive producer for the series, shares the same anger that many fans have after hearing news of the cancelation. "I'm pretty furious, too," she said to Entertainment Weekly's Michael Ausiello. "We have such an amazing group of writers and actors — best people I've ever worked with. None of us can believe this is really happening." Ausiello also revealed that Friedman won't have the chance to give the show a ending. "We're smack in the middle of several insanely juicy stories. And so we do not get a chance to wrap things up in a bow. Which is killing me," said Friedman.
In an unexpected surprise, ABC has ordered five more episodes of the Jerry Bruckheimer produced freshman drama, The Forgotten starring Christian Slater. Slater stars as an ex-cop who leads a group of amateur detectives in solving cases where the victim's identity is unknown. According to ABC, it's part of a mini-trend this season in which new series have gotten less than full-season pickups.
The CW's Melrose Place and CBS's Accidentally On Purpose had their episode order extended to eighteen episodes, which is tad shorter than the usual 22.
Follow TV Source on Twitter at @TVSource