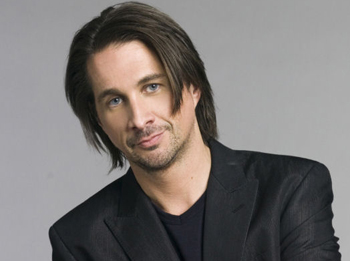 Brody and Natalie successfully break John out of jail.
Check out the debut of "The SoapBox" a new soap column at TVSourceMagazine.com
COLLISION COURSE
John and Brody successfully free John from incarceration, but John is shocked to see Natalie driving the getaway car. Marty is the one who takes the fall, however when she comes face to face with Lowell, and is jailed for aiding and abetting. Meanwhile Jessica lifts Nurse Charles' phone and makes a desperate call to Brody, but she's discovered before she can talk to him. Mitch proceeds to "treat" Jessica in order to wipe away all her memories. Brody tells John he's certain the call was from Jessica. Natalie, John and Brody manage to outrun the law, and Fish feeds them cyber info on Mitch's whereabouts. The trio comes to believe Mitch is holed up somewhere on Llantano Mountain, possibly in the old abandoned observatory.
At the last moment, Schuyler can't bring himself to go through with inducing labor and resigns himself to telling Gigi the truth. Dorian and Charlie try to take Stacy from the hospital in their bid to get at Mitch, but Nurse Charles whisks her away. Charlie and Dorian, Stacy and Nurse Charles, and Natalie, John and Brody are all involved in a car accident. John and Brody are not injured, but Natalie is trapped in the wreckage. Brody sets out to find Jessica, while Charlie and Dorian continue on foot to get to Stacy, oblivious about with whom they've just collided. When Stacy arrives at Mitch's hideaway, she's so disturbed and frightened by Jessica's condition she confesses that Rex is not her baby's father. Furious, Mitch throws Stacy out into the storm and then devises a more hideous plan to deliver "The Chosen One" to the world.
ELSEWHERE IN LLANVIEW
Schuyler tries to get to Gigi, and fearing Schuyler was in a wreck in the snowstorm, Gigi tries to rescue Schuyler. Rex and Fish try to find Stacy and come across Dorian's and Schuyler's wrecked cars. Charlie tries to reach Jessica. Langston happens upon Ford when she goes to find Markko. Ford thinks Langston was purposely looking for him but she vehemently denies his allegation. Langston takes Ford's key after he offers her the use of his office to do her writing. Kyle tells Roxy that Rex isn't the father of Stacy's baby. Rex makes a curious discovery as he goes through Schuyler's backpack. Danielle and Matthew are thrilled to see each other again and share a kiss.
CAN'T MISS THIS WEEK
John's shocked to find that Natalie is the driver of his and Brody's getaway car and believing Stacy's in labor, Rex and Kim take her to the hospital on Monday, February 1.
Mitch orders Nurse Charles to go and bring Stacy to him after learning she's supposedly in labor on Tuesday, February 2
Dorian and Charlie's car is on a collision course with Nurse Charles and Stacy, as well as Natalie, John and Brody on Wednesday, February 3
Stacy panics when she sees Jessica's zombie-like state when she arrives at Mitch's hideout with Nurse Charles. Stacy confesses everything to Mitch as she explains she's not carrying Rex's child on Thursday, February 4
Mitch forms his most heinous plan yet in his desperation to give the world the next Messiah and everybody is rescuing everybody else on Friday, February 5
---
TVSource Magazine
is looking for weekly, bi-weekly and/or monthly "One Life to Live" columnists. Applicants should be efficient, reliable, intelligent and team players with strong writing skills. If you are interested in
becoming a columnist for "One Life to Live" or perhaps another soap or primetime show, please contact us at staffpositions@tvsourcemagazine.com. Feel free to pass this information on to any other "One Life to Live" fans you know.
---
© 2010 TVSource Magazine. All rights reserved
Please credit TVSource Magazine and provide a link back if you copy & paste our spoilers