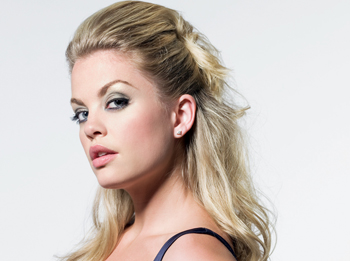 Jessica find herself captive in Mitch's lair.
Check out the debut of "The SoapBox" a new soap column at TVSourceMagazine.com
MITCH'S PLAN IS REVEALED
Brody and Viki panic when they suspect Jessica's disappearance is the result of a kidnapping. John's heroics are hampered behind bars, but Natalie vows to help him escape. Kim's (almost successful) seduction of Clint, Stacy's maneuvers to get close to Rex, Schuyler's romantic dinner for Gigi, and Rachel and Greg's romantic interlude are all interrupted by news of Jessica's kidnapping. Jessica comes to in Mitch's hideout and is horrified when she learns he plans for her to raise Stacy's baby as "the chosen one". Mitch resorts to particularly heinous measures to force Jessica to bend to his will. Brody gets a lead on Jessica's whereabouts, and informs Natalie that he and John have a plan to free John. Meanwhile, Stacy finally convinces Schuyler to give her the oxytocin that will induce labor, after she agrees to make Schuyler the baby's guardian.
After finding Danielle safe at Starr's, Tea tries to explain her feelings for Todd to her daughter. Danielle refuses to have anything to do with Todd, and Starr convinces Todd to let Danielle stay with her for awhile. Tea informs Danielle she's enrolled her at Llanview High.
ELSEWHERE IN LLANVIEW
Natalie and Marty's therapy session is disastrous, and Marty confides to Dr. Levin that she's nervous about John and Natalie's relationship. Bo and Nora take Shane and Bree to the ranch in Texas to keep them safe. Dorian shares her plan to use Stacy to get to Mitch. Stacy insists to Fish he is not the baby's father.
CAN'T MISS THIS WEEK
John is being held in jail and Natalie vows to free him. Danielle refuses to have anything to do with Todd on Monday, January 25.
Kim and Clint's, Stacy and Rex's, Schuyler and Gigi's and Rachel and Greg's plans for romance are put on hold by news of Jessica's kidnapping on Tuesday, January 26
Jessica find herself captive in Mitch's lair on Wednesday, January 27
Charlie tries to reach out to Viki but the moment is ruined when he suddenly leaves to secretly meet with Dorian on Thursday, January 28
John and Brody embark on their risky mission to break John out of jail but it appears as though their plan may have taken an unexpected turn on Friday, January 29
---
TVSource Magazine
is looking for weekly, bi-weekly and/or monthly "One Life to Live" columnists. Applicants should be efficient, reliable, intelligent and team players with strong writing skills. If you are interested in
becoming a columnist for "One Life to Live" or perhaps another soap or primetime show, please contact us at staffpositions@tvsourcemagazine.com. Feel free to pass this information on to any other "One Life to Live" fans you know.
---
© 2010 TVSource Magazine. All rights reserved
Please credit TVSource Magazine and provide a link back if you copy & paste our spoilers