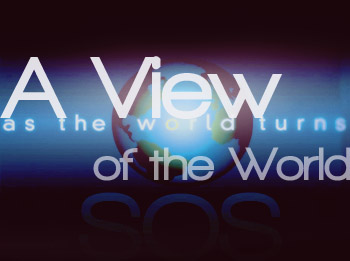 Sometimes in soaps a pair of actors will steal a scene or even an entire storyline and before you know it, they're the next "it" couple. Other times, a twosome with charisma to spare is ignored by the writers, driving myself and other fans insane with the unexplored possibilities.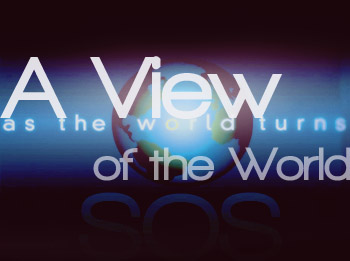 Sometimes in soaps a pair of actors will steal a scene or even an entire storyline and before you know it, they're the next "it" couple.  Other times, a twosome with charisma to spare is ignored by the writers, driving myself and other fans insane with the unexplored possibilities. There are good examples of both currently on As The World Turns. I've often pulled my hair out about the wasted potential of Henry and Katie. These two go way back together and were once actually married. Though the union was doomed from the start, they still had and still have an undeniable chemistry. At this point, that chemistry is relegated to the "only friends" category, but I'm rooting for them to take the next step.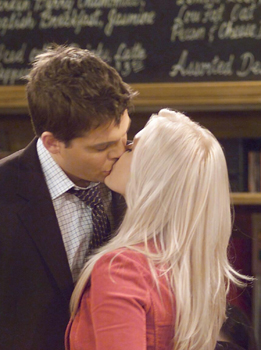 I understand there's a ton of folks out there who want Katie to someday end up back with Simon.  And I think Simon, as played by the gorgeous Paul Leyden, is one of the sexiest characters I've ever witnessed. He's simply delicious.  But sorry, I don't think he's grown-up Katie's true soul mate. It also doesn't mean I didn't appreciate the Brad and Katie match-up. How could I not?  It was a great pairing and it became a heart-wrenching storyline that actually propelled several other great plots. Even with all of that, the history between Katie and Henry, and the rapport between Terri Colombino and Trent Dawson is heavenly. It's refreshing to watch two characters accept each other for who they are. They know each other's secrets and worst flaws and yet still love and rely on each other. Usually in soaps, a duo is in a constant cycle of always disappointing each other then trying to recover from letting each other down. Not with these two.
And the sense of fun and comedy they bring to the show is so welcome and delightful.  Trent Dawson is a master of comedic timing and Terri Colombino shines with him as they continue to act as sidekick to each other's crazy schemes.  Remember Henry's cross-dressing Geneva Swift masquerade that only Katie saw through? Or when Henry committed himself to the same mental hospital Katie was stuck in? Granted, there have been a few rough patches, like when Katie abandoned Henry on a deserted island.  (But even that was kind of funny.) And more recently when she blamed Henry for Brad's death (which wasn't funny at all). But they've come through each trial with their friendship not only intact, but stronger than ever. They remain best friends and partners in crime, and their long-lasting relationship has truly withstood the worst and survived.  That's pretty rare in Soapdom.
That said, to my eyes Henry has never completely gotten over his romantic love for Katie. Since Brad's death, there have been definite hints of Henry's deeper-than-friendship emotions coming again to the surface.  Unfortunately, Katie doesn't look at Henry quite the same way. I watch their scenes together, relish all the rich feeling between the two, and I just want to knock the writer's heads together.  Why can't they act on the magic right in front of their faces?As sexy as Simon, Brad (and even Mike) are/were, they're not the men for Katie now. I think Henry and Katie belong together. They could be the funniest, zaniest, rowdiest super couple of them all. Think Lucy and Ricky Ricardo for the new century.
Less overtly funny, but coming out of the starting blocks with more of a hot and heavy vibe, is the fledgling Dusty and Janet matchup.  While they don't have the history of Katie and Henry, their very freshness could actually help the excitement factor. Granted, their relationship began rather abruptly and that seemed a bit clumsy by the writers.  Although Dusty is Janet's new boss at Metro (the club that almost everyone in Oakdale has owned at one time or another), they had only known each other about a millisecond before Dusty was all over Janet. But we all know that ATWT is famous for their faster than the speed of light storylines, and since I'm numbly accustomed to the rapid pace, I can shrug off that nagging point.
The two initially enjoyed some casual flirting while Janet struggled with her failing marriage to Jack. At that point, I caught a glimmer of potential heat between the two. They even went so far as to share a Christmas kiss under the mistletoe. But the fire really lit on New Year's Eve.  After being stood up by Jack, Janet found herself being comforted by Dusty in his hotel room-slash-home at the Lakeview. And it was some pretty steamy comforting.
For sure, that one night stand was completely out of character for Janet and it was a lazy tactic by the writers in their effort to quickly move the story.  But I do feel the chemistry between these two, and I think that night together will lead to some key plot elements in the weeks to come, so I'm willing to overlook the ploy.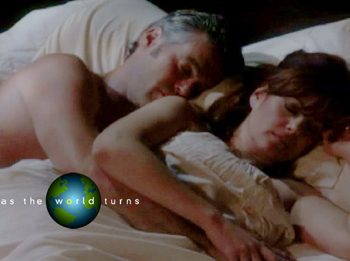 I want to caution here though, that Janet has never come across as some hapless victim. She has always been a strong, passionate survivor — a one foot in front of the other type. In my view that's exactly the sort of woman Dusty needs. I'm pretty much over Dusty's standard M.O. of rescuing the helpless female and then losing interest in her after she's been saved.  It's boring and insulting to women. Grayson McCouch is a good actor who needs to do more than play that one note over and over. If written right, Janet's strong, feisty nature could be the perfect match for Dusty.  As a nice added bonus, Janet might also lighten up Dusty's rather pessimistic and cynical view of life.  That gets a bit old.  And Julie Pinson, a fine actress with a strong screen presence, could really shine in this storyline.
If all goes according to my daydreams, these two potential couples could help As the World Turns maintain its current positive momentum.   And if this show has a hope of finding a new home, it needs to keep up its current very high standard of quality.  And on a related, but side note:  So do its fans. We need to band together and focus on a coordinated plan for our efforts to save the show.   Please check out Saveatwt.blogspot.com for a comprehensive list of all such plans, along with relevant links to other sites, and a list of addresses to mail/email SAVE ATWT correspondence. Let's keep up a united front, ATWT fans.  I want to continue watching these stories unfold.
Follow TVSource Magazine on Twitter at @TVSource | Follow Karen Riel on Twitter at @karenriel
Send comments on this column and more to mailbag@tvsourcemagazine.com