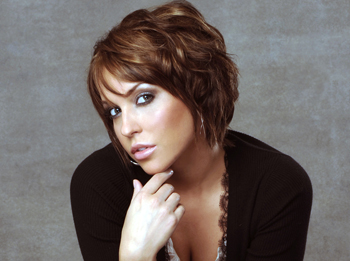 Schuyler lures Gigi to the Buchanan cabin under false pretenses.
Pulse Poll Rankings for Wk. of 3/15/10 |
Don't forget to vote for your favorite actor, actress, and couple in the Pulse Poll beginning at 4PM |
TRUTH BE TOLD
In the Statesville infirmary, Schuyler administers a lethal injection to Mitch and refuses to give him the antidote until Allison returns Sierra Rose to him. Allison arrives at Statesville with Sierra Rose and Bo allows them to enter. Mitch begins to feel the effects of the drug. Fish frees Kyle and Roxy and upon reading the results of Sierra Rose's paternity test he races to save his daughter. Face-to-face with Schuyler, Allison reveals the details of the night Roxy gave birth to Mitch's son, while Roxy shatters Rex with the truth that she is not his mother. Gigi and Natalie comfort Rex. Schuyler coerces Allison into handing over the baby, and then throws the antidote across the room. Bo and Brody make their way into the Statesville infirmary, and after some hesitation, Brody administers the antidote to Mitch. Schuyler is devastated when Fish shows him the DNA results, but he hands the baby to her father. Alison's gun is missing. Schuyler shows up at Gigi's door while Rex is out, and lures her to Viki's cabin with a lie that Sierra Rose is there. When Schuyler begins telling Gigi that they can still have a future, Gigi realizes all is not right, she tries to leave the cabin, but Schuyler pulls a gun on her. Bo and Rex search for Gigi.
Marty faints. After regaining consciousness she fears for her baby. John doesn't leave her side as the paramedics transport her to the hospital. Dr. Townsend informs the parents that their baby is safe, for the time being, but Marty's pregnancy is high risk. John asks Marty to move in with him so he can take care of her. Natalie buries her hurt at learning John and Marty are moving in together, and reaffirms her commitment to stay out of their lives.
ELSEWHERE IN LLANVIEW
Starr keeps Markko in the dark about Langston and Ford. Langston is please when Ford defends her to Hannah. Ford persuades Langston to postpone breaking up with Markko. Cole admits to Starr that he was in Hannah's dorm room because she took an overdose. Markko catches Langston in a lie, and seeks Cole's help in finding out what she's hiding. Jessica and Cristian have a playful moment, witnessed by Layla. Cris explains that he's keeping an eye on Jessica for Brody, and Jessica is upset to see Cris and Layla kiss. Layla finds an old love letter from Cristian to Jessica, and when she asks Cris to get rid of it, he storms out, and then runs into Jessica at the Buenos Dios Café. David blackmails Kim into divorcing Clint.
CAN'T MISS
Langston panics when Markko mentions that Hannah accused Ford of sleeping with Langston but he dismisses it as just something a jilted Hannah made up on Monday, March 29.
Allison stuns Mitch and Schuyler when she reveals what really happened after Roxy gave birth to Mitch's son on Tuesday, March 30
Layla finds the old love letter Cristian wrote to Jessica back in high school and asks him to get rid of it on Wednesday, March 31
Fish devastates Schuyler when he shows him the DNA test that proves that Fish is Sierra Rose's father. Schuyler reluctantly hands the baby over to Fish on Thursday, April 1
Kim vows to get revenge on David after he forces her to walk out on Clint on Friday, April 2
---
TVSource Magazine
is looking for weekly, bi-weekly and/or monthly "One Life to Live" columnists. Applicants should be efficient, reliable, intelligent and team players with strong writing skills. If you are interested in
becoming a columnist for "One Life to Live" or perhaps another soap or primetime show, please contact us at staffpositions@tvsourcemagazine.com. Feel free to pass this information on to any other "One Life to Live" fans you know.
---
© 2010 TVSource Magazine. All rights reserved
Please credit TVSource Magazine and provide a link back if you copy & paste our spoilers