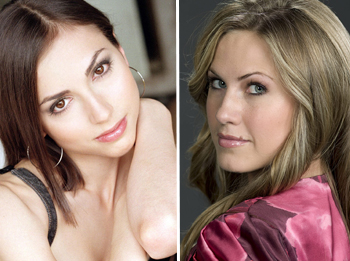 Emmy winner Eden Riegel is joining the cast of The Young and the Restless, replacing Vail Bloom in the role of Heather Stevens.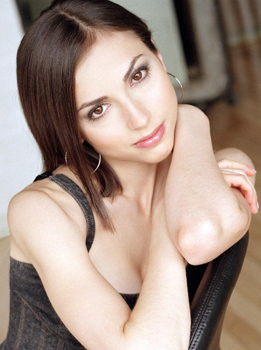 Emmy winner Eden Riegel (ex-Biance, AMC) is joining the cast of The Young and the Restless, replacing Vail Bloom in the role of Heather Stevens. Daytime Confidential hinted at the news earlier this morning with their blind item rumor. CBS Soaps In Depth confirmed the rumor a short while later. Last night Riegel tweeted: "I've got some really interesting, fun news coming your way! I know it's cruel to tease, but I'm too excited to keep it in."
The young star is best known for her 10 year off and on stint as Bianca Montgomery on ABC's All My Children. After departing the series in 2005, she's returned on multiple occasions for short storylines. Her most recent was a 4 month stint in 2008-2009 in which her character returned to Pine Valley carrying her brother-in-law's child, to be raised by Bianca and her fiancee Reese Marshall (Tamara Braun). The actress appeared in the series' 40th Anniversary episode of AMC on January 5, 2010.
In 2008, the actress and her husband Andrew Miller created the popular web series Imaginary Bitches. The series, which stars Riegel, Elizabeth Hendrickson (Chloe, Y&R; ex-Maggie/Frankie, AMC), Brooke Nevin and Connie Fletcher-Staton (ex-Erin, AMC), centers around a single girl (Riegel) who creates imaginary friends to cope with the reality of being lonely while all her friends are in serious relationships. Those imaginary friends just happen to be major bitches! In 2009, Eden was announced as the winner of the Best Individual Performance People's Voice Award during the Webby Awards. The series was also nominated for a Daytime Emmy Award in the New Approaches – Daytime Entertainment category.
No final airdate has been set for the departing Vail Bloom, who's played the role of Heather Stevens since July 2007. After her character's romance to Adam (Michael Muhney) ended late last year, there has been little for Heather to do. Her on-again, off-again feud with the Newman family subsided and the overzealous prosecutor hasn't been seen since she slept with Billy Abbott (Billy Miller) in late January!
While the decision to recast with Eden Riegel might be surprising to some fans, news of the Bloom's exit isn't for some. In 2009, Bloom's status with the show was a source of constant rumors, and reports of her departure proved premature, as her publicist released a statement denying the rumors. "Vail Bloom is not leaving Y&R," the publicist said at the time. "In fact, her option was just picked up. It's just a nasty rumor." However the actress was downgraded to recurring status less than a month later.
---
Follow TVSource Magazine on Twitter at @TVSource
|
Follow Ryan on Twitter at @SourceRyan