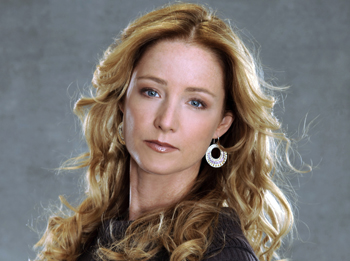 Marty takes a tumble down the stairs; Natalie becomes the prime suspect!
Pulse Poll Rankings for Wk. of 4/5/10 |
Don't forget to vote for your favorite actor, actress, and couple in the Pulse Poll beginning at 4PM |
THE HAND THAT SHOVED THE CRADLE
Natalie races to find help while John tries to revive an unconscious Marty. When she regains consciousness, Marty tells John someone intentionally pushed her down the stairs. After being examined by her doctor, Marty tells John about the vicious argument she had with Natalie and that she believes Natalie pushed her. When John later questions Natalie, she's furious he could believe her capable of deliberately harming Marty and his unborn child, and tells him she's sorry that Marty lost their baby, whether he believes her or not. Marty remains convinced Natalie is responsible, and questions why John didn't arrest her. John makes a promise to Marty that whoever is responsible for her losing her baby will be punished, even if it is Natalie. When Natalie confides in Brody, he firmly believes in her innocence. Later Brody questions Marty, who begins to have some doubts and realizes Todd may also be a suspect. A close encounter with a cantankerous Todd leaves Tea suspicious that he may have something to do with Marty's misfortune. When Tea confronts Todd he becomes furious. John discovers Natalie at the scene of the crime. He later finds a clue. Cole angrily confronts Todd outside Marty's hospital room.
ELSEWHERE IN LLANVIEW
Nurse Wojohowitz, who was on duty the night Rex was born, doesn't recall his parents but gives him one half of a locket that was left in his baby blanket. Viki makes a decision about her future with Charlie. With Viki's approval, Charlie accepts Dorian's job offer, but Viki warns Dorian not to mess around. Markko, posing as a bellboy, almost catches Langston and Ford when they take advantage of a room at the Palace. Langston lies to Starr when she tells her she broke up with Ford. Later Ford manipulates Langston when she tries to break up with him. Kelly is surprised when a vocal Rodney shows up at her office and confirms that Melinda was murdered, but he refuses to share the details with anyone but John McBain. When Kelly leaves Rodney alone in her office, she returns to a horrible discovery. Starr warns Hannah to stay away from Cole. Danielle and Nate share their first kiss while rehearsing the play. Matthew voices his insecurities about Danielle to a supportive Destiny. Viki encourages a forlorn Jessica to go to the prom even though Cristian won't be her date as she had hoped. Bo and Nora break the news of their engagement to Clint.
CAN'T MISS
Marty, with John by her side, is on pins and needles as Dr. Morrison performs a sonogram to see if the baby suffered any injuries from the fall on Monday, April 19.
Starr chastises Todd for his treatment of Cole but after returning home, Starr makes it clear to Cole she'll never cut her father out of her life on Tuesday, April 20
Langston narrowly avoids being caught in bed with Ford when Markko arrives at their hotel room posing as a bellboy on Wednesday, April 21
Marty remains certain Natalie pushed her down the stairs and questions John's reluctance to arrest her and Brody assures Natalie he believes in her innocence on Thursday, April 22
Kelly makes a horrible discovery when she returns to her office after having left Rodney there alone on Friday, April 23
---
TVSource Magazine
is looking for weekly, bi-weekly and/or monthly "One Life to Live" columnists. Applicants should be efficient, reliable, intelligent and team players with strong writing skills. If you are interested in
becoming a columnist for "One Life to Live" or perhaps another soap or primetime show, please contact us at staffpositions@tvsourcemagazine.com. Feel free to pass this information on to any other "One Life to Live" fans you know.
---
© 2010 TVSource Magazine. All rights reserved
Please credit TVSource Magazine and provide a link back if you copy & paste our spoilers