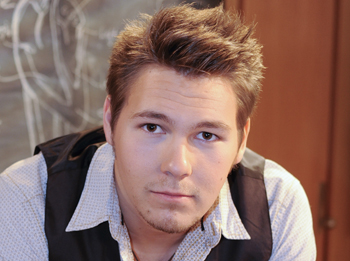 Schuyler pulls the trigger and it's Bo who is shot taking a bullet for Rex!
Pulse Poll Rankings for Wk. of 3/22/10 |
Don't forget to vote for your favorite actor, actress, and couple in the Pulse Poll beginning at 4PM |
THE BIG 'OH'
In a very twisted form of foreplay, Schuyler pulls a gun on Gigi when she tries to leave the cabin, and proceeds to plead with her to make love with him. Gigi's rejection leaves Schuyler despondent, and when she fears he will kill himself, Gigi lets out the shriek, heard around Rex and Bo, leading them to the cabin. Bo steps in before Rex can beat Schuyler to death, and Schuyler pulls a gun planning to kill Rex. Bo takes the bullet intended for Rex. At the hospital, Rex explains to Nora and Matthew what happened, and the three stand together as Bo, near death, is wheeled into surgery. Bo survives surgery, but the outcome remains in question. Clint pleads with his unconscious brother to hang on. Nora, Matthew and Rex plead with Bo not to leave them. Bo opens his eyes while Nora is with him. Nora, Matthew and Rex pray together for Bo's recovery. Ultimately their prayers are answered, and Greg announces that Bo is expected to make a full recovery. Clint swears he and Bo will always be brothers.
Although Sierra Rose's paternity has been established, the unwitting bairn continues to create conflict. Gigi is relieved to learn that Sierra Rose is safe in her father's arms, but she's not prepared to give up her dream of mothering this child. Roxy learns that Schuyler is her son. When she learns he's been arrested, Roxy rushes to Schuyler's side. Roxy stuns Gigi and Rex when she tells them Schuyler is her son and she insists she will stand by him.
ELSEWHERE IN LLANVIEW
Jessica and Natalie get a bit prickly and they argue when Jessica refuses to back off her obsession with Cristian. Natalie has a heart to heart with Cristian. Fish and Kyle take Sierra Rose home. Kelly asks John for help and refuses to let him go it alone. Dani and Destiny want the same thing. Layla and Cristian make up, briefly.
CAN'T MISS
Natalie admits to Cristian she wonders what might have happened between her and John if Marty hadn't gotten pregnant on Monday, April 5.
Schuyler's desperation ends in tragedy as Bo risks his own life to protect Rex on Tuesday, April 6
Gigi's relieved to see that Sierra Rose is safe and sound with Fish and Kyle but the custody issue remains up in the air on Wednesday, April 7
Clint lets go of his anger and urges an unconscious Bo to hold on. Nora, Matthew and Rex plead with Bo not to leave them on Thursday, April 8
Kelly insists on accompanying John to California to follow up his lead. Destiny, Danielle and Matthew are surprised to find out who's been cast in which roles in Langston's musical on Friday, April 9
---
TVSource Magazine
is looking for weekly, bi-weekly and/or monthly "One Life to Live" columnists. Applicants should be efficient, reliable, intelligent and team players with strong writing skills. If you are interested in
becoming a columnist for "One Life to Live" or perhaps another soap or primetime show, please contact us at staffpositions@tvsourcemagazine.com. Feel free to pass this information on to any other "One Life to Live" fans you know.
---
© 2010 TVSource Magazine. All rights reserved
Please credit TVSource Magazine and provide a link back if you copy & paste our spoilers