In this week's Gays Of Our Lives, Hit The Floor has the fallout of Jude and Zero's coming out. But why wasn't it everything it could have been? Plus Shadowhunters shows some improvement — to a point, Emmerdale makes the shippers happy, some juicy Neighbours and Hollyoaks teasers and much, much more!
---
PICKS AND PANS
This week wasn't as solid as in previous weeks as it was mostly filler and setup for the final two episodes to come. But that didn't mean it wasn't as affecting. This show continues to hit it out of the park.
The personal stories interwoven in the drama didn't work as well as the show's producers thought it would, but I understand why they did it. It did break the narrative flow, but it made the dramatized stories real in a way that perhaps they hadn't been up until this point.
For me, the most powerful scene was the one between Eric and his father where Karl vowed to be there for his son, even if he always hadn't in the past. The tears in Eric's eyes said that he still needed his dad, maybe now more than ever. Eric's mom is horrendous though. Let's hope Karl finds her and Pete quickly.
Kevin continues to be an awful person. His refusal to take the blame in any of this drama is a product of his privileged upbringing because his parents are the same way. I need to see that family get a comeuppance of some sort before this show is over. Especially Kevin.
Mostly though, I just felt so sad watching this episode. Sadness I thought about the next morning, sadness I'm thinking about as I write this. We only saw Taylor in that one scene, but it was enough to get the point across.
His life is over. What happened to him doesn't matter. There's no way he will ever get past this and ever be okay. All we can do now is pray he survives, which will be hard for a young gay man in prison.
I know a lot of people didn't like this plot twist because it's not fair. But life is not fair. Mostly it really sucks. Generally TV would be sure that Taylor got justice and got a 'happy' ending. I appreciate that this show, as difficult as it may be to watch, didn't feel the need to do that.
---
So.. this Henry kid is gay, I guess? The show didn't make it obvious enough, did they? LOL..
Actually, I didn't know this new teen's name was Henry until I did some research because since he had two lines of dialogue in this episode and no one actually spoke to him during the show until Paul at the end. I guess that's how important this 'story' is. And what is the point of this? I doubt if it's an actual storyline since the show isn't invested in any of the characters involved.
I mean Paul, who we haven't seen since he went on that off screen date after that lame fashion show a month or so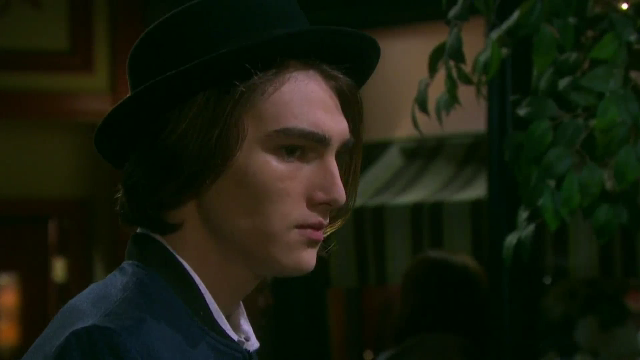 ago, spent most of the episode talking to that boring Lani about Theo's love life. I had to laugh at those scenes since after Paul said he knew Theo, Lani proceeded to tell Paul about about him anyway. I mean I specifically remember several scenes with Paul and Theo (and Sonny and Will).
Of course then Theo was played by a little boy with dreadlocks and not a hunky teenager.
Speaking of teens, this show needs to recast most of them (dreadful acting mostly across the board) and rework these storylines.
One of the teens is a rapist and the other is a murderer? That's not what you do with your younger generation. What happened to the days when teens just fell in love?
And I see that Days set up Sonny's impending return with the discussion of Victor bringing Sonny back to be his right hand man in the business. But why does Victor need to think about it? Isn't that what Victor has always wanted for Sonny?
---
Poor Abi. She went on and on about how much she loved him, but Ben made it clear he's only with her for the baby. Ouch.
I love how Babe suggested Abi just sleep with another guy to get herself pregnant as if it were nothing. But I guess it was since that is what Abi did when she hooked up with Lee. Like I predicted last week, Abi is going to be pregnant by another guy's baby and pass it off as Ben's.
While I know this STI plot point was mostly about Ben not being able to have sex with Abi, thwarting her plan to get pregnant, I think the show should have used the chance to discuss how HIV is on the rise among young gay men in the UK. It's a relevant issue that should have been passed on to the viewer.
However Ben isn't sure where or when he got this STI. He told Abi about it so she could get tested, but why not Paul? He deserves to know as well. Ben claims to love Paul, but he doesn't tell him he could have an STI?
I did like Ben admitting that as much loves Abi, his desire for men is too strong and between that and the drinking, it's leading to him being sexually reckless. That was a nicely acted scene. It's also all too realistic.
ADDITIONAL SCENE
---
Emmerdale (U.K.)
So Robert set the whole thing up by paying that kid to claim he was raped by Gordon? Oh boy. It goes without saying it's going to blow up in their faces. I just hope Gordon doesn't get away with raping Aaron because of it.
So first Chas and now Cain are ready to sing the praises of Robert? Lord, I guess next they'll have Paddy saying 'you know those murder attempts and threatening to harm my disabled toddler? Never mind'. Personally, I don't like the softening of Robert and I especially am not a fan of turning this scandalous affair into this sappy star crossed romance that only the shippers could love.  
Robert and Aaron talking about waiting for the right time to be together and being a proper couple? Come on, their relationship was never about hearts and flowers. The interest was in scandal and the secrets. For me, if their relationship were to have any longevity, it would be of the love/hate variety where they'd have a completely inappropriate and utterly dysfunctional pairing. But this?
The scheming ruthless Robert was much more fun to watch than this one. But the new producer has made it clear that he wants them to be a long term match so Robert has lost the edge that made him so appealing.
I predict wedding bells in the next year. And what do you want to bet Aaron somehow winds up guardian or custodian of his long lost sister and Robert will help him play happy families?
Could the show make it anymore obvious that Chrissie and Andy are gonna hook up?
I still wonder what the point of this Bernice/Lawrence coupling is. Is he going to finally come out or what?
Can the new producers finally give Finn a story and a love life?
ADDITIONAL SCENES
Emmerdale 26th February 2016
Click the Next Page For More "Picks and Pans"