---
People of the Valley  (Wales)
This is, by far, one of my favorite stories right now. I love these guys. Iolo has always been a favorite of mine and it's great to see him in an interesting story that doesn't require him to be miserable all the time. Sure, there will be drama, but I've seen enough of Iolo's tears over the decade he's been on this show.  I pray they actually let he and Tyler get married, even if there's angst. And there should be because it's a soap.  Over all though Tyler and Iolo are a super sweet couple with a lot of chemistry who fit well together. I still think it's way too soon for marriage, but I'm going with it for the moment.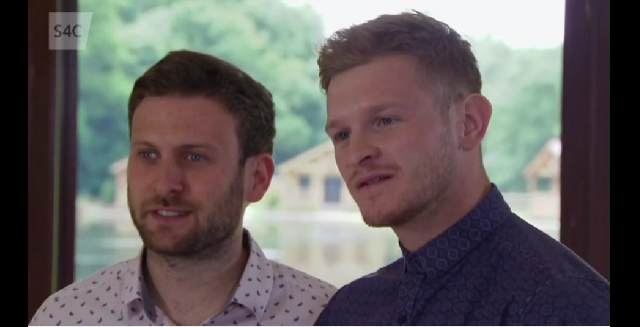 As for this past week, you knew the venue owner would change his mind once he learned Tyler and Iolo were the ones getting married.  I saw that coming a mile away. And we saw some of Tyler's still present coming out issues because of his being upset about Kelly writing a story about it.  I would have liked to have seen Tyler and Iolo discuss that Tyler was really bothered that more people would know he was gay, but that was glossed over. Shame.
And it annoyed me that Tyler had to be talked into helping Kelly save her job. She deserved better than that. I'm glad he came around.  But my biggest issue with that whole plot arc is that there would be no way they could get a venue that nice two weeks before the wedding.  It would be already booked!  Besides, that ballroom was pretty big.  Iolo and Tyler don't have that many friends and/or family.  The whole damn town could fit in that room. Seemed like wasted space to me. The place was beautiful though.
So they caught the girl that beat up Iolo, huh?  Curious to see where it goes. I just hope it doesn't end badly for Iolo and Tyler.
---
So I'm thinking Jude and Noah won't be having sex anytime soon, then?  Personally, I think this bit about gay teens who are avoiding sex to be kind of….. unrealistic.  Connor was written as 'bad' because he wanted to have sex with Jude and now it's the same with Noah.
I dunno when I was a teenager I couldn't wait to get rid of my V card.  I'm not saying Jude should give it away to anybody, but in a family where all the teens are getting laid regularly, I raise an eyebrow that it's the gay one clinging his virginity. I think it's strange that a growing teen boy doesn't want to explore sex.
That flashback of a super young Jude and Connor got me a bit misty.   I loved Connor, actually more than Jude, whose always been a bit of a pain, IMO.
---
The Haves and The Have Nots  (U.S.)
So was that scene where David warned Veronica that if she kept pushing at Jeffery he would kill her foreshadowing?  Seemed like it.  I'm thinking someone will try and murder Veronica and Jeffery will be the top suspect. Of course it'll turn out not to be him. Maybe Melissa.
I thought it was funny when during fake sex with Melissa, Jeffery moaned the names of the men in his life.  Speaking of Jeffery's men, where is Justin?  He's been off screen for a few eps now.  I need him back (and shirtless) immediately.
CLICK HERE FOR SPOILERS AND TEASERS!