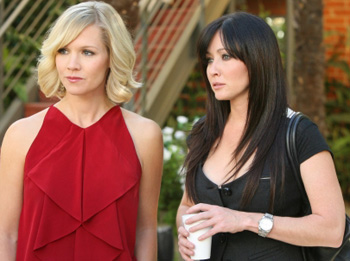 Brenda (Shannon Doherty) reveals a long-held secret to Kelly when 90210 returns tonight.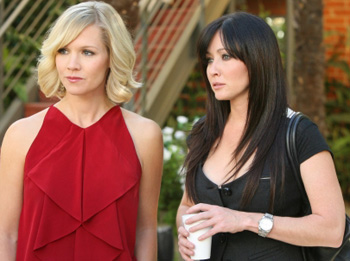 The CW hit series 90210 returns with an all new episode. In the episode "Hello, Goodbye, Amen," Annie starts to question whether Sean (Josh Henderson) is really her long-lost half brother after she overhears him on the phone with a mysterious person. Meanwhile, as Annie's relationship with Ethan grows stronger, her brother Dixon's isn't going so well. When Christina (Lauren London) invites Dixon, he decides to not fill in his girlfriend Silver on that tidbit of information. Will their relationship survive?
Across town Adrianna asks Brenda to attend her support group at rehab. Brenda reveals a secret shes been keeping to her best frenemy Kelly; Adrianna gets news that will impact her life forever.
90210 1/13 Episode – "A Hand to Take Hold of the Scene" Sneak Peeks:
Grandma Tabitha gives Annie and Dixon a new car without their mother's permission. Annie and Ethan sneak away to Palm Springs. Dixon has a surprise for Silver.
Later This Season
Christina's girlfriend makes an appearance. Naomi gets thrown for a loop by a boy she thought she had a connection with. Silver is diagnosed with a mental illness. Ty will cause some issues for a leading lady. Brenda wants a baby – but can she become a mother? If Sean isn't really the long lost brother – then who is?