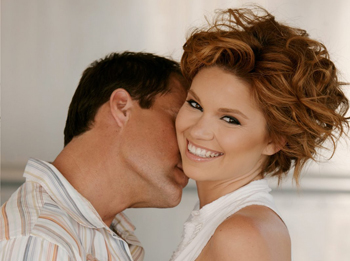 Dinah turns to Mallet for help while getting in deeper with Grady.
GL Spoilers: Week of October 13
BY: Trish Mahon
NEWS EDITOR
Saturday, October 11, 2008, 4:40 PM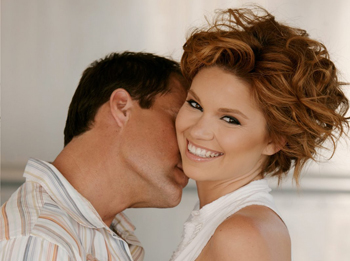 A Desperate Search / The Good Girl And The Bad Boy
Even though Bill's presentation was successful, Bill says to Dinah that he is disappointed that Lizzie didn't come.  He confides in Dinah that he was going to tell Lizzie that he fell in love with her.  Dinah broke into Lizzie's room and made sure that it looked like she ran away.  Bill finds a ransom note.  Dinah find the magazine that was used on the ransom note and she takes it out on someone.  Meanwhile, Daisy follows Grady and tells him to stay away from Dinah.  When they hear a noise, Grady tells Daisy to live him alone and she leaves.  Grady tells Lizzie to be quiet, but she starts to talk and Grady gets comfortable.  Bill realizes that Lizzie has been kidnapped when he finds her dog, Roxy.  Alan and Beth find out Lizzie has been kidnapped. Dinah changes the second ransom note.  Dinah is there for Bill when he needs her.  Grady drops something that could help Lizzie get free.
Mallet and Marina discover that they need more money to buy Harley's house so they both go for part time jobs.  They soon find out that not only to they both get jobs, they are both hired at the same place. They are getting a tour of the hospital where they notice an entertainment center that looks an awfully like one that was recently stolen.  When asked how the hospital got the system, the two are surprised to discover it was Cassie. Upon leaving the hospital, the two see Cassie and Cyrus breaking into a car.  Marina pretends to just run into Cyrus and asks a few pointed questions.  Cyrus quickly leaves and heads to Cassie's.  At the same time, Cassie is being grilled by Mallet, who doesn't believe Cassie's story.  Cyrus bursts in and tells Mallet that they will do anything to prove their innocence.  Later, Cyrus teaches Cassie on how to beat a polygraph and things get a little steamy between the two.  Meanwhile, Frank gives Marina a gift that she may not be able to refuse.
Springfield Happenings….
Rick tells Olivia the devastating news that she may be rejecting Gus's heart.  Natalia, also at the hospital hears the news and is just as upset.  Olivia and Natalia get in a fight…but soon after Olivia sees Natalia with Emma and she realizes she may have judged her too harshly.
Reva decides to go to the Towers and talks the bartender's ear off.  Jeffrey calls and she lies to him about what she is doing.  To her chagrin, he is standing behind her.  He reminds her that neither one of them have to change because of  the baby. Reva cries and tells Jeffrey that she needs a life of her own.
---


TVSource Magazine wants to know what you fans think in both primetime and daytime. Like/dislike a storyline or pairing on your screen? Do you want a fan favorite to return? Do you love/hate a character and/or their actions? Have a campaign you want to highlight? Send us your thoughts, opinions and suggestions to be printed in the TVSource Mailbag to: mailbag@tvsourcemagazine.com
---
Discuss this news and more at the TVSource Magazine Message Board. Click HERE to visit

Contribute content to TVSource Magazine Content: Fans wishing to send-in news items, previews, show recaps, interview recaps, or anything else newsworthy can now do, with any desired credit, via e-mail by CLICKING HERE.