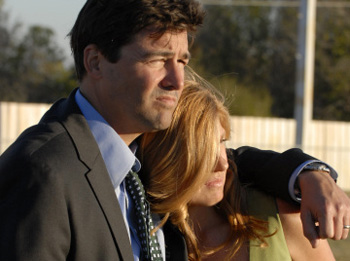 Friday Night Lights renewed through 2011.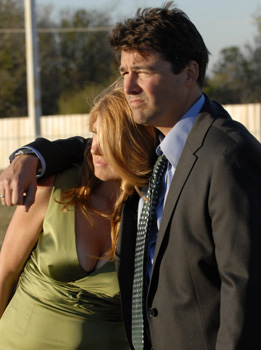 Friday Night Lights Lands a Touchdown.
Good news for fans of NBC's Friday Night Lights. The show, currently in its third season, has been picked up for two additional seasons. The deal, announced earlier this week, is much like the last one between NBC and DirecTV. Each season will contain thirteen episodes as opposed to the standard twenty-two and will air its first run on DirecTV and then on NBC.
Last year Friday Night Lights was saved from the brink of cancellation when DirecTV offered to pay a portion of the shows cost for the chance to air first run episodes (reportedly just under half the cost of each episode). NBC accepted and fans rejoiced.
The exact dates are not set yet as everyone is trying to work out scheduling. The show's executive producer and show runner Jason Katims is currently working on another pilot for NBC. It's likely the fate of that pilot will effect when FNL starts production again.
Stars Kyle Chandler and Connie Britton are both under long term contracts and will return next season. As for the rest of the cast – that's up in the air.  It's safe to assume that Minka Kelly (Leyla) will be written out as she has landed a pilot of her own on The CW. It has also been reported that Adrianne Palicki (Tyra) would also exit the show and both girls would get a multi-episde arc send off as others have in the past.
You can also catch Taylor Kitsch, who portrays Tim Riggins, in this summer's expected hit, X-Men Origins: Wolverine as Gambit.